Minister Puspayoga Encourages Cooperative Subsidiaries for IPO
By : Ahmad Fadli Dan Aldi Firhand | Monday, April 23 2018 - 23:00 IWST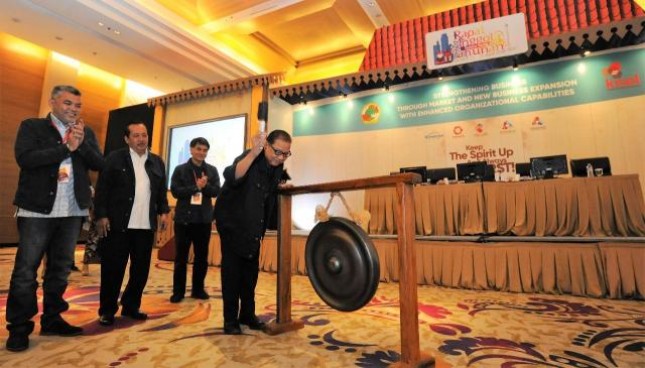 Menteri Koperasi dan UKM Puspayoga membuka Rapat Anggota Tahunan Koperasi Telekomunikasi Seluler (Kisel) tahun buku 2017, di Jakarta Senin (23/4/2018)
INDUSTRY.co.id - Jakarta - Minister of Cooperatives and SMEs AAGN Puspayoga encourage cooperatives to have a subsidiary that allows entering the floor of the stock.
"There is already a 'best practice' in this case that is Kospin Services through its subsidiary PT Asuransi Jiwa Syariah Mitra Jaya Abadi tbk in 2017, where its stock price is sold Rp140 / share of stock, instantly skyrocketed to Rp300 per stock when listing, and now has become Rp 1,000 more share price," said Puspayoga in opening Annual Meeting of Cellular Telecommunication Cooperative (Kisel) year book year 2017, in Jakarta Monday (23/4/2018)
He sees, KISEL with its achievement has been feasible to have a subsidiary that can release its shares to the stock let alone KISEL also has a number of subsidiaries engaged in various lines of business.
"The achievement of KISEL as the world's largest cooperative in the order of 128, is also very proud and it is the name of the Indonesian cooperative, I still remember two years ago KISEL is still in 300 san, now it is growing," said Puspayoga Minister.
In terms of performance, KISEL is also no less good, with total assets until December 2017, amounting to Rp1, 48 trillion, earnings turnover Rp6, 4 trillion and SHU Rp63, 7 billion.
"It means KISEL is able to compete with big private companies, but KISEL may not be the biggest cooperative, but I think KISEL is the best cooperative in Indonesia," said Puspayoga.
The Minister reminded that KISEL board and supervisory board is not satisfied with the current achievement.
"On the contrary, the achievement of this cooperative should be improved, so the cooperative should be focused as a business entity, do not like to change the professionals, because the advancement of the cooperative is very dependent on the board," Puspayoga said.
As the instructions of the President of RI Jokowi, he said, and then all parties should raise cooperatives as a tool for equity welfare.
"Even if the economy grows, it is only enjoyed by a handful of people, the cooperative becomes the right place for the distribution of welfare," he said.