Communication Expert; Calming The Mass During Debate, Kang Hasan Considered Right For West Java
By : Herry Barus And Aldo Bella Putra | Tuesday, May 15 2018 - 21:30 IWST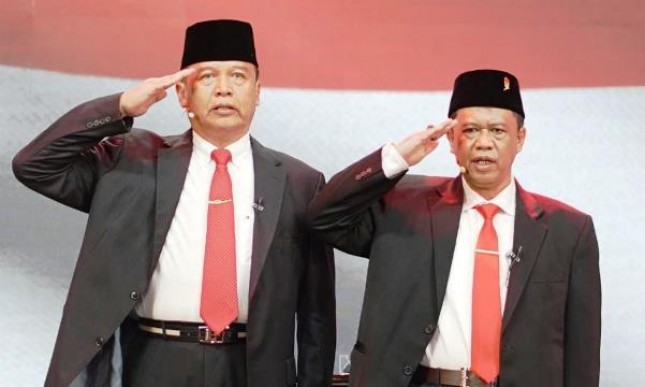 Tb Hasanuddin-Anton Amanah (FotoDok Industry.co.id)
INDUSTRY.co.id - Bandung – TB. Hasanuddin's attitude, the 2nd Candidate of West Java Governor Number 2 who calmed his supporters during a riot incident triggered by the Replacement of #President2019 statement while exhibiting T-shirts by Candidate Pair Number 3, Asyik, received various attention. Pasundan University Communication Expert, M. Ridlo Eisy assess the attitude shown by Kang Hasan is the attitude of leaders who have a firm soul and guard.
To avoid the chaos Kang Hasan firmly takes over the atmosphere and calls on his emotional supporters to stay calm and not to be hooked. "We can watch in Kang Hasan's Video and Kang Anton's initiative comes forward to ease," explains Ridlo. Ridlo cannot imagine if Kang Hasan let his emotional supporters. "It will certainly cause chaos and anarchism there," Ridlo said again.
According to Ridlo Kang Hasan's experience in the military world has apparently influenced Kang Hasan's politics style that puts the country's integrity ahead of pragmatic interests. The strict character and guardian according to Ridlo needed for West Java at this time. "It may be a long time in the military in the field and once the Commander of the Garnisum so brave and understand," explained Ridlo.
Ridlo then commented on the running of the almost 2 hour Public Election Debate. Ridlo sees solutions to the various problems discussed during the debate are the need for courage and security. "The problem of environmental damage, Citarum River, flood problems, water disputing problems, and mining, The result is the courage to enforce the rules," said Ridlo. Then next is about security. " I think another piece of cloning might be good, but frankly yes, if there is no big zero security, the construction cannot run, the effort stops if it is not safe," explained the man who was a member of the Press Council. "For now Jabar takes a bold and assertive figure," said Ridlo again.
Meanwhile Kang Hasan who was interviewed after the debate confirms the action Paslon Cagub and Cawagub No.3 which trigger turbidity atmosphere is the ways of terror that triggered the conflict. "We will not be hooked, and the team will complete it in accordance with the procedure." There is also KPU Bawaslu here, "said Kang Hasan. Kang Hasan then called on his supporters not to be hooked by acts of terror that destroy the integrity of the nation and NKRI. "From the beginning I insist, we will not sacrifice the integrity of West Java simply because of the ambition of power," explained Kang Hasan.