Government Current Claims Entrepreneurial Growth Indonesia Reaches 7 Percent
By : Ahmad Fadli And Aldi Firhand. A | Tuesday, June 05 2018 - 21:29 IWST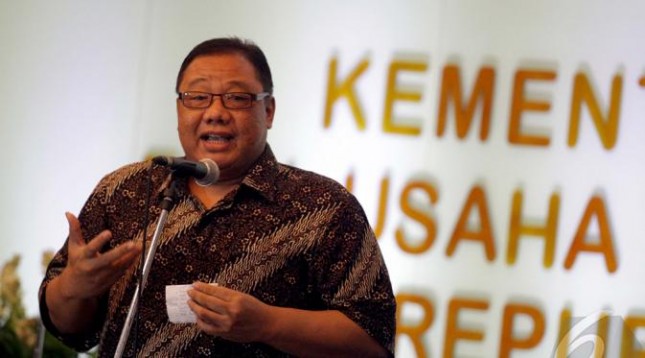 Minister of Cooperatives and SME Anak Agung Gede Ngurah Puspayoga
INDUSTRY.co.id - Jakarta - Minister of Cooperatives and SMEs AAGN Puspayoga revealed that the development program of micro, small and medium enterprises (MSMEs), as well as Beginner Entrepreneurship (WP) which was launched since the administration of President Jokowi has given significant results in increasing the ratio of entrepreneurs (entrepreneurs) Indonesia.
According to Puspayoga, the current ratio of entrepreneurs in Indonesia has increased to 7 percent more than the total population of Indonesia. In the previous year (2014), the ratio of entrepreneurs in the country only 1.55 percent, then increased to 1.65 percent in 2016, until the end of 2017 has reached more than 3.1 percent.
"That number is already above the international standard that pegs 2 percent. So broke eggs, "Puspayoga said in a Working Meeting with Commission VI of the House of Representatives in Parliament complex, Senayan, Jakarta, Monday (4/6/2018).
In addition to the number of entrepreneurs, Puspayoga also claims that other programs also show encouraging results. Namely the contribution of the cooperative to the Gross Domestic Product (GDP) of 1.71 percent in 2014 increased to 3.99 percent in 2016, and the last to 4.48 percent.
"It is thanks to our cooperation with all parties, DPR, private, regional head, SOEs. Although with limited budget, "he said.
To note the ceiling of the Ministry of Cooperatives and SMEs budget year 2017 amounting to Rp 960.773 billion. The realization of the budget until the end of the year amounted to Rp 880.688 billion or 91.66 percent. While in 2018, Cooperation ministry and SME ceiling reduced to Rp 944.538 billion. As of May 31, the realization was 30.03 percent.
"To increase the absorption we have made a monthly target name, so every month there is a target of a percentage and for the month of May that we report is 30.03 percent is actually already above the target," said Minister.
On the same occasion, the Chairman of Commission VI of the House of Representatives, Teguh Juwarno, said that the increase of entrepreneurship ratio, as well as the contribution of cooperatives to GDP can be used as one indicator of the success of the Ministry of Cooperatives and SMEs in fostering cooperatives and micro, small and medium enterprises.
"I appreciate the minister, for confidently stated that the contribution of the cooperative to GDP 2017 to be above 4 percent and the number of our entrepreneurs 7 percent. This is one of the keys to the success of the ministry, "said Teguh.
However, in the future, Teguh encourages the Ministry of Cooperative and Small and Medium Enterprises to focus on fostering productive sector cooperatives rather than savings and credit cooperatives (KSP), in order to provide a multiplier effect on the Indonesian economy. This is the way that has been applied in some developed countries such as France, the Netherlands and New Zealand.