PT Modern Industrial Estate Aims for Taiwan Investors
By : Ridwan And Aldi Firhand. A | Monday, August 06 2018 - 22:27 IWST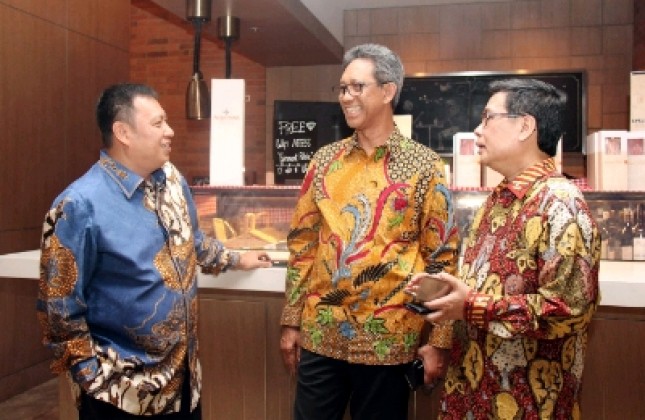 Modern Cikande
INDUSTRY.co.id - Serang, PT Modern Industrial Estat, a subsidiary of PT Modernland Realty Tbk., Developer of the Modern Industrial Estate Industrial Estate (MCIE) in Serang, Banten, supported the 2nd Indonesian Taiwan Industrial Collaboration Forum (ITICF) organized by the Ministry of Industry at Fairmont Jakarta Hotel, Monday (6/8/2018).
The ITICF is expected to be a platform and starting point for collaboration in industrial cooperation between Indonesia and Taiwan, as well as making Indonesia a production-based country for the two mainstay industrial sectors.
One of the series of ITICF event activities was a visit to ModernCikande Industrial Estate (MCIE) on Tuesday (7/8).
"We welcome the visit of 100 delegates from Taiwan to Modern Cikarang Industrial Estate. Hopefully this visit can open business cooperation opportunities and expand the market or joint venture with investors from Taiwan," said Pascall Wilson, President Director of PT Modern Industrial Estat when giving a welcome Welcoming Dinner. at Fairmont Hotel, Jakarta, Sunday (05/08/2018).
Furthermore Pascall Wilson said, Modern Cikarang Industrial Estate is ready to accept investors from Taiwan who want to invest in Indonesia.
"We are ready to support the business activities of investors from Taiwan so that their investment activities in Indonesia can grow and develop well," Pascall Wilson said.
Pascall Wilson said, Modern Cikande Industrial Estate is one of the largest industrial areas in the west of Jakarta which continues to grow as an investment area of ​​various types of companies both nationally and internationally.
The location of ModernCikande Industrial Estate is very strategic because it can be accessed via the Jakarta-Merak toll road and then exit through the Cikande and Ciujung toll booths and only one step towards the 3 major ports, Ciwandan, Cigading, and Merak Mas.
Of the total land area of ​​3,175 hectares, the land area that has been developed currently reaches 40% with the remaining landbank around 1500 hectares. At present ModernCikande Industrial Estate is home to more than 200 local and multinational companies of various types of businesses. The dominating company is a chemical company, followed by companies operating in the field of steel, metal products & smelters and companies in the field of home & building materials.
In addition to selling plots of industrial land ready for construction, Modern Cikande Industrial Estate is also equipped with quality infrastructure and supporting facilities and regional arrangements.
For example, inside the industrial area has been established shopping complexes, clinics, post offices, banking offices, canteens and the latest facilities in the form of hotels. Through its subsidiary PT Modern Asia Hotel, PT Modernland Realty Tbk. officially build a new hotel to target guests from within the Modern Cikarang industrial area.
For 2018, ModernCikande Industrial Estate has again innovated by starting to develop Modern Halal Valley, the first and largest halal industrial area in Indonesia covering 500 hectares.
This area will consist of Halal Integrated Supply Chain, Standard Factory Building, Industrial Land, and Logistic Park. Modern Halal Valley is a halal industrial zone that embraces Muslim values, meets the highest standards in halal matters, food security and environmental sustainability.
Modern Halal Valley will also provide a variety of supporting needs for a complete halal ecosystem for efficient halal production and domestic distribution and export to international markets.
"Modern Cikande Industrial Estate wants to actively participate in realizing Indonesia's vision of building a complete halal ecosystem for halal food and related industries," Pascall Wilson said.
Furthermore Pascall Wilson said, the potential of the halal industry in Indonesia is very large but the irony is that until now Indonesia has only become a market for other countries in the halal industry.
"Therefore, through Modern Halal Valley, MCIE is ready to facilitate halal industry investors, both local and foreign. The halal industrial zone that we develop has infrastructure and facilities that support halal management and distribution, both to meet the needs of domestic and international markets. We even "Hopefully this region can become a halal industrial ecosystem in the country," he said.
Year 2018 PT Modern Industrial Estat targets to reach sales of around 50 hectares of land with a marketing sales value of Rp1 trillion. PT Modern Industrial Estat is optimistic that the target can be achieved because there is still a large demand for incoming interest, especially after the Cikande toll gate operates, which further facilitates access to the Modern Cikarang industrial area.