Through the School of Applied STEM Program, Prasetiya Mulya Prepares HR Facing Challenges in the Industry Age 4.0
By : Hariyanto And Aldo Bella Putra | Monday, August 27 2018 - 23:00 IWST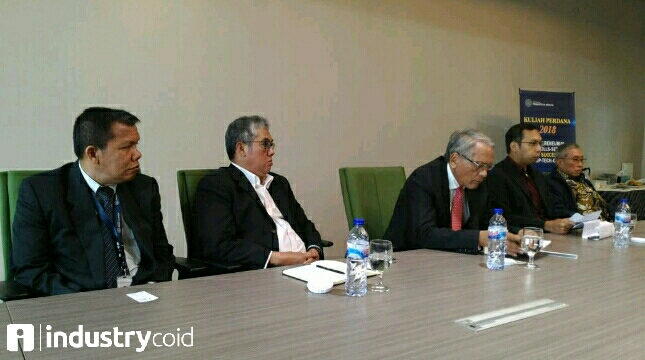 Universitas Prasetiya Mulya hadirkan program School of Applied STEM (Hariyanto/INDUSTRY.co.id)
INDUSTRY.co.id - Tangerang - As a concrete step in dealing with various developments in science and technology, Prasetiya Mulya University through the School of Applied STEM program presents the Inaugural Lecture event to prepare quality human resources.
Deputy Chairperson of the Prasetiya Mulya Foundation, Jusuf Wanandi said, the development of science and technology also brings new opportunities and challenges that must be prepared. In this case Prasetiya Mulya put forward the collaboration of science, technology and entrepreneurship to realize Indonesia 4.0.
"Young entrepreneurs are very likely to gain business opportunities in Era 4.0, especially in digital technology-based sectors. "Talented, creative and innovative young entrepreneurs will benefit from this fourth wave of industrial revolution," Jusuf explained in Tangerang, Monday (08/27/2018)
The Indonesian government through the Ministry of Industry has also prepared an initiative "Making Indonesia 4.0" to implement the Industry 4.0 strategy and Roadmap in Indonesia. This Roadmap involves various stakeholders, ranging from government institutions, industry associations, business actors, technology providers, and research and education institutions.
Development of quality human resources is also the main thing that must be prepared to deal with this new era.
Ariya Hidayat as a Senior Developer from Indonesia who is currently working in Silicon Valley explained, having the ability and expertise alone is not enough to be able to compete in the midst of rapid technological development and various changes.
"The development of science and technology must be faced with the courage to continue to fight the flow in order to create new ideas. Of course, we need a firm principle and business consistency from all industry players to get maximum results, "Ariya explained.
Chancellor of Prasetiya Mulya University, Prof. Dr. Djisman Simandjuntak explained Prasetiya Mulya understood the importance of the role of educational institutions in realizing Indonesia 4.0, therefore a School of Applied Stem was formed which provided various choices for students to develop their interests, especially in technology and business.
"The School of Applied STEM learning program uses discovery-based learning, which stimulates the creativity of students to innovate. The learning focuses on experimentation and the development of prototypes and paradox-based in design thinking so that students can act as engineers as well as designers, "explained Prof. Dr. Djisman.
Prasetiya Mulya's commitment to the collaboration of science, technology and entrepreneurship was also strengthened by the intense collaboration of the School of Applied STEM with various companies, such as DOKU, there are Adaro Power, Schneider, and others. The School of Applied STEM has 6 undergraduate study programs (Business Mathematics, Computer Systems Engineering, Digital Business Technology, Renewable Energy Engineering, Food Business Technology and Product Design Engineering).
STEM Prasetiya Mulya students develop their innovative character by implementing Multi-Hybrid innovation, which is a series of processes consisting of pull-innovation demand, product-scrutinized innovation, and technology-push innovation.
Prof. Dr. Djisman added various supporting facilities have also been prepared to support student development, including the Prasetiya Mulya Laboratory Building and Digital Learning Hub. The laboratory building will later have 9 floors consisting of classes, co-working space and laboratories that can accommodate the various needs of the School of Applied STEM students.
The areas that will be the focus of science-technology innovation are Energy, Food, E-Platform and CAD & SIMULATION. There are two types of laboratories that are basic and advanced. The basic laboratory consists of Chemistry, Bio-Microbiology, Physics & Fluids and Electronic & Network.
While advanced laboratories consist of Nutrition Fact, Testing Materials, Analytical Centers and CAD / CAM. The design and implementation of the Prasetiya Mulya laboratory has combined Prasetiya Mulya's vision and mission, future plans, capabilities & interests of the School of Applied STEM teaching staff and input from industry.