9,422 Joint Armed Forces Personnel -Polri Ready to Secure Asian Games Closing
By : Ahmad Fadli Dan Aldo Bella Putra | Saturday, September 01 2018 - 17:00 IWST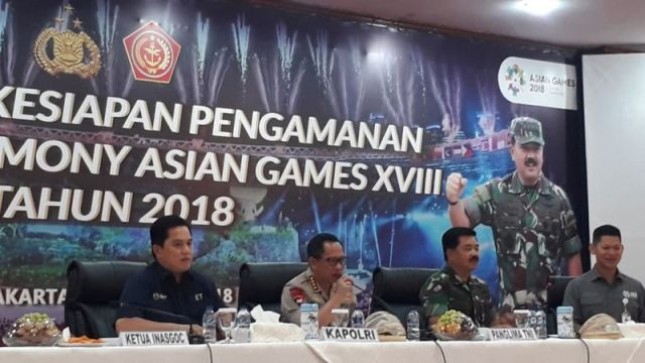 Kepolisian Republik Indonesia bersama TNI menyiagakan 9.422 pasukan gabungan untuk mengamankan closing penutupan Asian Games 2018 di Gelora Bung Karno (GBK) Jakarta.
INDUSTRY.co.id - Jakarta - The Indonesian National Police together with the TNI alerted 9,422 joint forces to secure the closing of the 2018 Asian Games at Gelora Bung Karno (GBK) Jakarta.
"Joint forces of the Indonesian National Police and local government. Starting from the Satpol PP, fire department, ambulance, etc. Especially for quick response," said Tito at Metro Jaya Regional Police Headquarters
According to Tito, until now the 2018 Asian Games safeguard has received appreciation from guests and athletes of other countries' contingents. Apart from the friendliness of the officers, the settlement of the crimes that occurred was fairly fast.
"There are three small cases, such as losing three cell phones and being found, but apparently not because they were stolen, but because they forgot where they were," he explained.
In addition to security disturbances such as crime of pick pocketing, snatching, and theft of parked motorized vehicles, the Indonesian National Police also focuses on handling terrorism.
"Outside the Bung Karno Stadium there is a festival market that can be visited by more than 30 thousand. We TNI-Polri remain focused, especially on the issues of terrorism and traffic jams, especially during the closing ceremony," Tito stressed.