Semester I-2018, Puradelta Sells Industrial Land Covering 21.7 Hectares
By : Ahmad Fadli And Aldi Firhand. A | Sunday, September 16 2018 - 22:26 IWST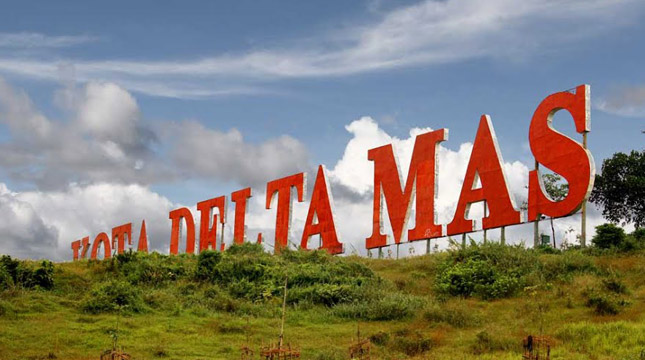 PT Puradelta Lestari Tbk (DMAS)
INDUSTRY.co.id - Cikarang- In the first half of 2018, PT Puradelta Lestari Tbk (DMAS) recorded industrial land marketing sales of 21.7 hectares or the highest in the market share of industrial land sales. This sales achievement cannot be separated due to the competitive advantage of the company with comprehensive facilities and infrastructure.
Tondy Suwanto, Director of Puradelta Lestari, in a press release in Jakarta, said yesterday that this has reaffirmed DMAS's position as a leader in the industrial estate development sector in recent years.
In addition to the growth in land sales, the developer of the Deltamas integrated industrial area also succeeded in registering marketing sales in the first half of this year amounting to Rp.561 billion from the sale of industrial land, commercial land and residential products, or around 45% of this year's salesDMAS marketing target Rp.1,25 trillion .
He believes, with this ignition can achieve sales targets. Where optimism is supported by the high demand received by the company covering an area of ​​about 100 hectares. The high demand comes from automotive and non-automotive companies and most of them are foreign companies. According to Tondy, this indicates that interest in foreign investment in the country is still high.
In line with the increase in industrial activity and the acceleration of government infrastructure projects, DMAS continues to develop residential areas equipped with various supporting facilities. Various well-known commercial tenants, such as schools, hospitals, chain restaurants and gas stations, have invested and some of them have operated in the City of Deltamas.
In addition, along with the increasing number of Japanese expatriates in Kota Deltamas industrial area, Japanese School is currently being built with Japanese education curriculum to meet the educational needs of Japanese expatriate children in the city area of ​​Deltamas.
"The development of residential and commercial areas is important to be done as a synergy in the development of the company's industrial estate so that it can strengthen our position as a leader in the industrial area management sector," added Tondy.
DMAS is the developer and manager of the City of Deltamas, which includes the GIIC industrial area which is one of the largest industrial areas in Indonesia, with a solid land area of ​​1,714 hectares. In total, including the area for residential and commercial development, DMAS has a total land area of ​​3,177 hectares.
Various infrastructure developments in eastern Jakarta, such as flyover toll roads, LRT, fast train projects, Jakarta-Cikampek 2 South toll road, and the construction of Patimban port and Kertajati airport will increase the value of Deltamas City as a modern industrial-based urban area.
In terms of finance, DMAS has other advantages, namely not having debt (zero debt). To date, capex comes from adequate internal funding. The cash register per semester / 2018 reached Rp.233.27 billion.