The Impact of Illegal Cigarette Distribution, the State Losses IDR 1 Trillion Per Year
By : Ahmad Fadli And Aldi Firhand. A | Friday, September 21 2018 - 23:32 IWST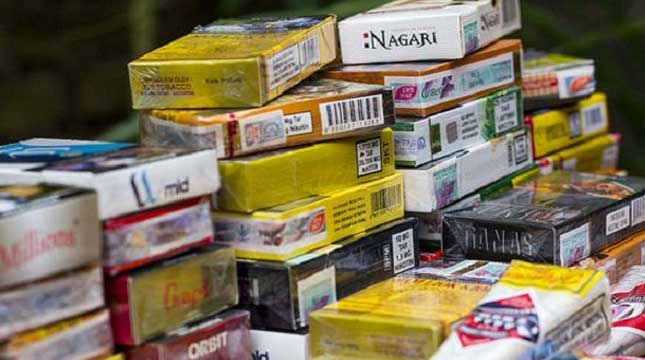 Illustration of Illegal Cigarettes ((Ist)
INDUSTRY.co.id - Jakarta - Circulation of illegal cigarettes (without excise duty) in the country is still quite large. Based on the findings of a team from Gadjah Mada University (UGM) through a survey of illegal cigarette excise throughout 2018, it was found that 7.04 percent of the 100 packets of cigarettes sold in stalls were proven to violate excise provisions by the Ministry of Finance.
"The value of industrial violations that have the potential to reduce state revenues in a year ranges from Rp. 909 billion to Rp. 980 billion," said UGM researcher, Arti Adji in his presentation at the Ministry of Finance Building, Central Jakarta.
The UGM Survey of Economic and Business Research and Training noted that the majority of violations occurred on plain cigarettes, aka cigarettes which had no excise tape at all, reaching 52.6 percent. Furthermore, fake cigarettes or imitation cigarettes are installed but have an original excise tax of 15 percent. Then is the violation in the form of misappropriation or the use of other excise tax stamps for different types of cigarettes, reaching 14.9 percent.
The study itself was carried out in 29 provinces throughout Indonesia which consisted of 426 districts / cities and 70,198 villages. Meaning said the survey was carried out by randomly collecting cigarette samples from each region and then checking the excise ribbon of each. There are several reasons for the survey, one of which is because cigarette excise is a source of state revenue which reaches 95 percent of total revenue.
Research has actually been carried out since 2010 and shows mixed results. In the first survey in 2010, 6.1 out of 100 packs of cigarettes (6.1 percent) in stalls were illegal and violated. In just six years until 2016, the number doubled to reach 12.1 percent. Then in 2017 and 2018 it decreased, 10.9 percent and 7.04 percent respectively.
Director General of Customs and Excise at the Ministry of Finance Heru Pambudi said his team would continue to crack down on cigarette producers with this illegal excise. Moreover, many producers are now looking for ways to outsmart it, from establishing small grooves to producing midnight. "If we eradicate the illegal, the price of cigarettes must rise, this is a better condition from the health aspect," he said.
Chairman of the Association of Indonesian Cigarette Paik Association (GAPPRI) Ismanu Soemiran, said that legal cigarette producers were indeed harmed by the existence of cigarettes without cigarette excise. Because without excise, illegal cigarettes can be sold cheaper and trigger unfair business competition. "The mode is, when the market is crowded, that's where many illegal things appear," he said