Citra Borneo and Grand Resources Sign Stearin and Olein Offtake Agreement
By : Abraham Sihombing | Tuesday, May 18 2021 - 20:55 IWST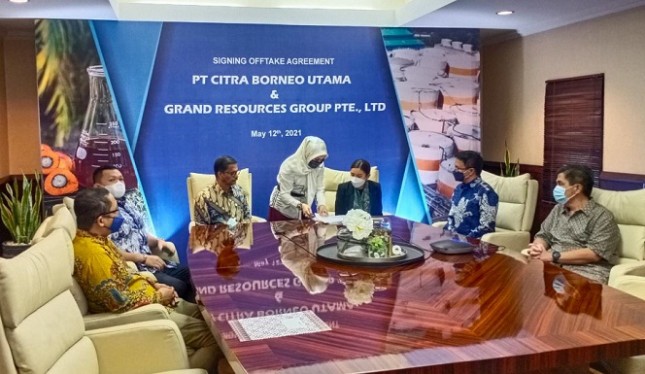 The signing situation of an offtake agreement, PT Citra Borneo Utama (CBU) and Grand Resources Group (Singapore) Pte, Ltd. (Photo: PT Sawit Sumbermas Sarana Tbk Public Relations)
INDUSTRY.co.id - Pangkalan Bun - PT Citra Borneo Utama (CBU) and Grand Resources Group (Singapore) Pte, Ltd. (GRGS) virtually signed an Offtake Agreement for the provision of palm oil derivative products, namely Stearin and Olein, on 12 May 2021.
CBU is a palm oil refining and fractionation factory which is a downstream industry whose 32% stake is held by PT Sawit Sumbermas SaranaTbk (SSMS). Meanwhile, GRGS is a subsidiary of Grand Industrial Holding Co. Ltd., which is a large Chinese company engaged in various industries.
CBU produces palm oil derivative products through a milling and refining process. The process are consisted of two stages, where the first stage is a fractionation. The fractionation is a process of crystallization and the separation which produces solid stearin and liquid olein.
The signing of this offtake agreement was carried out by Monica Putri, the Marketing Deputy Director of CBU, and Robert Xiu Qiang represented the GRGS. The initial contract value of this agreement is of USD10 million. The signing was witnessed directly and virtually by the CEO of SSMS, Vallauthan Subraminam; CEO of Citra Borneo Indah Group, Rimbun Situmorang; and CBU Director, Balakrisnan Naidu.
In her remarks, Monica stated, the purpose of this cooperation was to ensure the plan of stearin dan olein supply to meet needs. In the cooperation, GRGS benefits from being able to obtain a steady supply of stearin and olein, both of which are still scarce in the world market. Meanwhile CBU benefits from having regular buyers.
This is an important milestone for CBU in developing its business and the quality of each product. "This will be an important milestone for both parties. After the signing, it is expected to be continued with mutually beneficial cooperation and increaseable," said Monica.
In the future, this cooperation is expected to provide support to CBU for its promising business continuity for all shareholders and stakeholders. For its CPO raw material, CBU is currently still fully supplied by SSMS. Therefore, around 80% of the total raw material needed by CBU comes from CPO that is supplied by SSMS and the remaining comes from third parties.
At the end of 2020, SSMS increased its share ownership in CBU to 32% compared with 19% before. SSMS is optimistic the share ownership increase is expected to raise the company's liquidity and profits in the future. (Abraham Sihombing)