Ahead of IPO, DRMA Stimulates Electric Vehicle Component Business Opportunities in Indonesia
By : Nata Kesuma | Friday, November 26 2021 - 15:00 IWST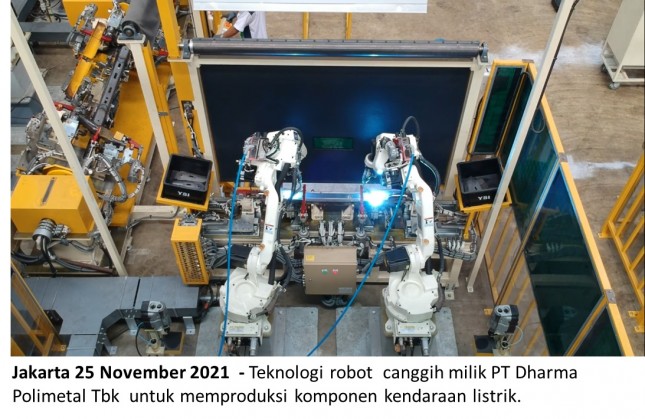 PT Dharma Polimetal Tbk's advanced robot technology to produce electric vehicle components
INDUSTRY.co.id - Jakarta, 25 November 2021 – PT Dharma Polimetal Tbk ("DRMA"), an automotive component manufacturing company belonging to the Triputra Group which is planning to conduct an Initial Public Offering (IPO) at the end of 2021, stated that it is ready to take the opportunity to produce components that are needed by electric vehicles (EV) in Indonesia.
In welcoming the era of transformation from internal combustion engines to EVs in Indonesia, DRMA began to produce components used in electric vehicles such as body components and vehicle chassis using high-tensile steel, battery packs, sensors, battery management systems, to wiring harnesses. .
"Currently, the government continues to encourage automotive industry players to support the development of electric vehicles by providing incentives and making a roadmap for EVs, seeing this the Company is preparing itself through technology and human resources capable of producing components for electric vehicles," said President Director of DRMA, Irianto Santoso, through information received by the INDUSTRY.co.id editor on Thursday (11/25/2021).
Furthermore, Irianto explained that the EV battery has a very large weight of about 30% of the total weight of the vehicle. Thus, the weight of the vehicle needs to be made lighter to compensate for the weight of the battery.
One way to lighten the weight of the vehicle is to use high-tensile steel material. Currently, relying on the competence of human resources and technology, DRMA has begun to produce vehicle body components using high-tensile steel which has a strength of up to 980 MPA and in the future it can reach 1190 MPA.
In addition, the DRMA subsidiary also produces other components for EVs. For example, Dharma Electrindo Manufacturing and Dharma Kyungshin Indonesia began to develop and manufacture high current-capacity wiring harnesses for EVs.
"All components manufactured by the Company are currently indispensable components, not only for internal combustion engine-based engines, which we estimate have very large growth prospects in addition to the latest trend towards electric vehicles. Of course, this momentum is an opportunity for the Company to continue its better performance in the future while continuing the process to become a public company," concluded Irianto.