BELL Net Profit Increases in the Third Quarter of 2021
By : Nata Kesuma | Tuesday, November 30 2021 - 20:50 IWST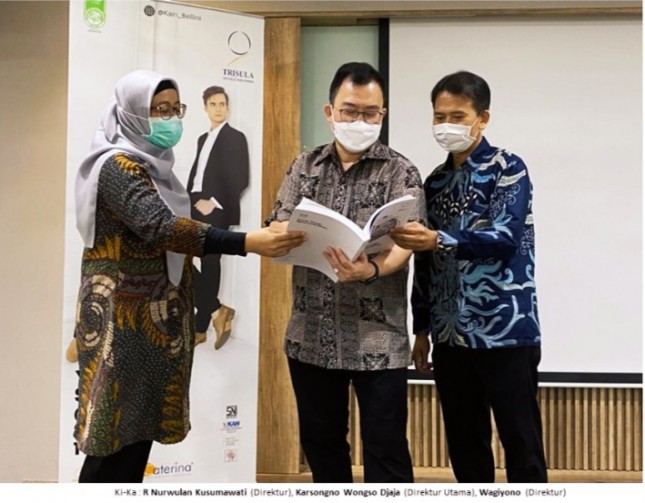 PT Trisula Textile Industries Tbk ("BELL"),
INDUSTRY.co.id - Jakarta, November 29, 2021 - PT Trisula Textile Industries Tbk ("BELL"), a publicly listed company that produces good quality fabric, uniform, and fashion products, managed to record a net profit attributed to its main entity of IDR2.8 billion in the Third Quarter of 2021, an increase of 277.2% YoY compared to the the same period last year of a recorded net loss of IDR1.6 billion.
This increase was driven by BELL's recovering performances, one of which was BELL's improved retail performance, both online and offline.
R Nurwulan Kusumawati as BELL's Corporate Secretary said, "The increase in the Third Quarter of 2021 was also supported by a decrease in finance costs for managing accounts payable and accounts receivable, inventory, and other costs that were quite effective, causing moderate improvements to BELL's cash flow operations. In addition, BELL has also experienced an increase in demand from loyal customers where BELL is able to maintain the trust in the products provided to the customers."
In terms of sales, the Company is still dominated by the domestic market at around 95% however, the Company's export performance in this year's period has risen 47% compared to last year's achievement. Meanwhile, in the retail segment, there was also an increase in demand for JOBB and Jack Nicklaus products.
Aside from that, to maintain good performance, BELL continues to strive to maintain good relations with the customers, by developing new products geared towards customer needs, and continues to pay attention to sustainable production processes, where BELL have earned the ISO 14001:2015 Environmental Management System certification, ISO 45001:2018 Occupational Health and Safety Management System, and Standard 100 by Oeko-Tex as a form of BELL's commitment to ESG implementation and supporting the achievement of SDGs.
In addition, BELL also continues to strive to develop the business by keeping up with current developments where online shopping trends are starting to increase. To stay on top of these developments, recently Trisula Group, BELL's holding group, has launched an online shopping platform, specifically Yukshopping.com.
"In the future, BELL is expected to be able to open up great opportunities for BELL's business with economic conditions and activities that have begun to return to normal. So with this opportunity, BELL is optimistic that it can maintain the good performance until the end of this year," concluded Nurwulan.