Gods Flame Digital Co., Ltd. officially Became a Strategic Partner With Ding Chen Carbon Asset Management Co., Ltd.
By : Nata Kesuma | Wednesday, March 02 2022 - 11:30 IWST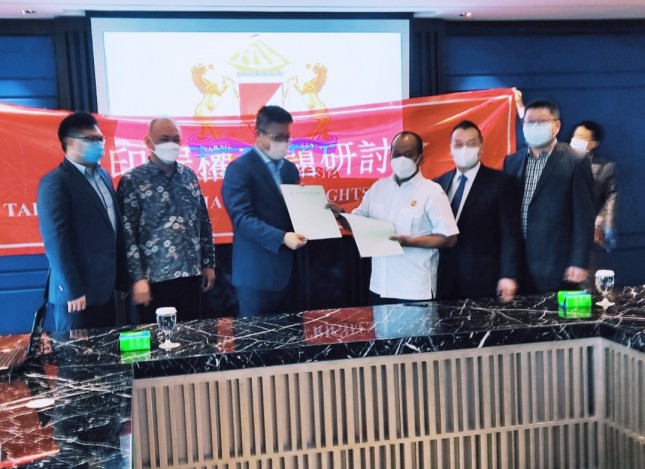 Caption Photo : From the left of the blue mask : Mr. Jack Yao, Mr Stephen, Mr. Ting Chen Kao, Mr. Tugiyo, Mr. Po Tao Wei, Mr. Hsin Chien Wu, Mr. Chin Chuan Cheng
INDUSTRY.co.id - Today, Gods Flame Digital Co., Ltd. announced that it has officially become a strategic partner with Ding Chen Carbon Asset Management Co., Ltd. Since Ding Chen Carbon Asset Management Co., Ltd. has obtained carbon rights, the carbon The right to blockchain technology development and distribution rights will be handed over to the strategic partner Gods Flame Digital Co., Ltd.
Jack Yao, general manager of Ding Chen Carbon Asset Management Co., Ltd., said: "There is only one earth for us. Since the 19th century, human beings have continuously produced a large amount of carbon dioxide for manufacturing and production, resulting in a sharp rise in the greenhouse effect. The Kyoto Protocol was signed in 1997. The main purpose is to reduce climate warming and set greenhouse gas reduction targets. Therefore, protecting the earth and regenerating forests will become the main task of sustainable management of the earth", Gods Flame Digital Co. , Ltd. General Manager Lin Zhifan also said: "We are very excited to become a strategic partner with Ding Chen Carbon Asset Management Co., Ltd. and become a part of protecting the earth. In the future, in addition to the development and development of the carbon rights public chain, In addition to the issuance, we will develop a metaverse world that is dedicated to the close connection between environmental protection and carbon rights! And part of the proceeds will be reinvested in environmental protection resources, so that the virtual world and the real world can truly build a bridge and become an endless cycle".
Carbon rights public chain
The technical application scope of blockchain is not limited to digital asset trading, e-commerce, supply chain tracking and other industries. The environmental protection field is also one of the projects that have been successfully applied in recent years.
The specific pricing of financial products is because some countries or companies have a certain upper limit on their carbon emissions, so the excess or remaining carbon rights can be converted into "tons" of carbon dioxide equivalents (tCO2e) for trading.
Since enterprises and enterprises, and even countries need a transparent, fair and open platform for carbon rights trading, the characteristics of the blockchain at this time include immutability, transparency, openness, traceability, etc. It is very suitable for application in carbon trading.
In the future, Gods Flame Digital Co., Ltd. will build a fair, open and transparent platform based on blockchain technology through the communication and agreement of smart contracts. In addition to the protection, it also allows the relevant supervisory units to supervise related transactions more easily.
Environmental Metaverse
Gods Flame Digital Co., Ltd. said that in the future, based on the carbon rights public chain, a new environmental protection metaverse world will be created.
The environmental protection metaverse will include public welfare activities, community ecology, NFT asset management, sponsorship and User structure, and will directly integrate blockchain technology (personal authentication, digital asset authentication and virtual currency circulation), through node reward mechanism, mining feedback module and environmental protection task reward mode to create a real environmental protection world, users will no longer be in the future.
It is a single miner role. After entering the world, he can truly become a specific character. Through the mechanism, he will get rewards for completing tasks.
Some of the related rewards will be re-invested in environmental protection actions, so that the virtual world is no longer a simple interaction, but a relationship with The real world is linked, and the related links are generated in a loop, which specifically realizes the link between the two worlds.