Coming Soon: Orange Groves at PIK 2, A new Riverside Destination With Comprehensive And Modern Facilities
By : Nata Kesuma | Thursday, March 31 2022 - 13:20 IWST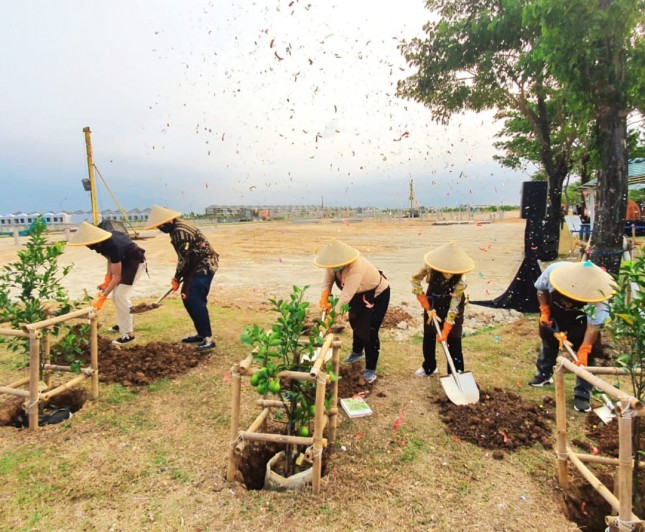 Orange Groves at PIK 2
INDUSTRY.co.id - Jakarta, March , 2022 - With a busy city life in Jakarta, the need for open space is increasing. In the past few years, especially during the Covid-19 pandemic, there has been more demand to seek open space for families and friends to gather.
Seeing the uptick trend for outdoor green spaces, leading property developers Agung Sedayu Group and Salim Group introduce Orange Groves as a 1.1ha riverside destination.
Before Orange Groves opens in October this year, Agung Sedayu Group first held a Groundbreaking Ceremony on March 25 attended by: General Manager Orange Groves Magnus Giaever; CEO Hotels & Malls Division 2 Natalia Kusumo; and COO Malls & Retails Division 2 Sawitri Setiawan.
"It is not an easy feat to develop a business while we are all adapting with an endemic. Among the many things to prepare and pay attention to are the health protocols. Our team has readied everything well in advance with vigilance to the current government rules and regulations," said Sawitri.
Located at the Greenbelt in PIK 2, five minutes away from Pantjoran PIK, Orange Groves comes complete with modern facilities for the best dining, shopping and vacationing experiences. Top tenants would further support the needs of modern consumers, ranging from fashion to interior design, fitness, beauty, food and beverages, and many more. Expect tasty offerings from famous restaurants, including Acta Brasserie, Osteria Gia, Patty & Sons, Saigon Delight, and Chica San Chen.
Recalling beautiful orange orchards in Sicily, Italy, a river runs through Orange Groves, and trees shade its corners for visitors to sit back and relax from the daily hustle.
"We are creating an experience that will make each guest feel like they are on a little holiday each time they visit Orange Groves. The property's serene location along the Tahang River is the perfect place to go when you want to escape the city and relax," said Magnus.
"Our team is excited to build a creative community between our guests, the independent brands at Orange Groves and our local partners. We all share a zest for life and plan to have a smashing good time each day down by the river."
Moreover, Magnus added that Amantara, a subsidiary of Agung Sedayu Group and curator of Orange Groves, commits to sustainability initiatives. Thus, Orange Groves collaborated with the non-profit organisation One Tree Planted in its reforestation efforts to have trees planted in the guests' names at the Groundbreaking event.
These trees would be grown in the buffer zone at the Mount Leuser National Park in Sumatra to provide food for the wildlife and work as a green economy system for local farmers.
Oranges Groves will surely complement and be among the best of popular destinations at PIK 2, Golf Island and Ebony Island, such as Pantjoran PIK, Cove at Batavia PIK and Urban Farm.