AICPA & CIMA executives urge Indonesian accounting and finance professionals to seize the opportunity presented by the environmental societal and governance agenda
By : Nata Kesuma | Friday, October 07 2022 - 16:55 IWST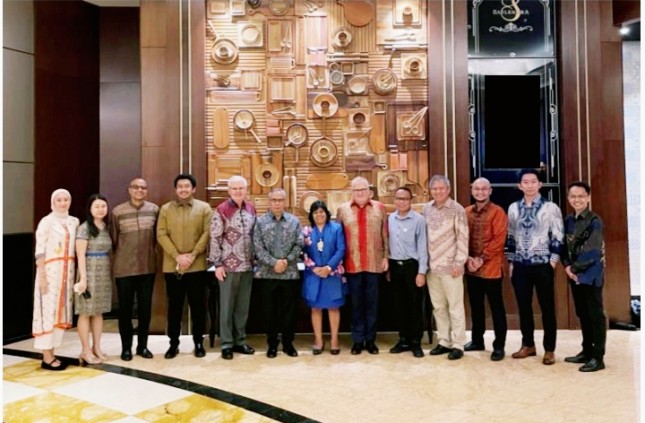 AICPA and CIMA (the Association)
INDUSTRY.co.id - 7 October 2022, Jakarta, Indonesia – The leaders of the world's largest body of accountants and finance professionals, AICPA & CIMA, urged the accounting and finance community in Indonesia to take the lead in guiding businesses and public bodies through the opportunities and risks presented by the environmental, social and governance (ESG) agenda.
Addressing senior representatives from major employers, business leaders, regulatory, academic and government representatives during a visit to Jakarta, global President & CEO Barry Melancon, CPA, CGMA, set out how governments and market participants are driving the adoption of ESG reporting worldwide. He told them that the accounting profession must grasp the opportunity to provide advisory, assurance and strategic advice to help create the sustainable businesses of the future.
Andrew Harding, FCMA, CGMA, Chief Executive, Management Accounting, emphasized that the finance profession has reached a point of once in a generation change. Stakeholders are demanding far more from it than in the past, including significant progress on the ESG agenda, and this will be a key value driver for the organisations they serve in the future. Both the executives called on finance professionals to play their part in shaping this agenda.
Mr Harding and Mr Melancon emphasised that business performance can no longer be judged purely on short-term financial returns to shareholders. Intangible assets such as brand, employee purpose and technological know-how now make up a huge amount of an organization's value. Creating and sustaining this value is becoming the key role of the finance professional.
They reminded their audiences that 82% of Chief Executive Officers see ESG as a value driver for their business over the next five years, and that the accounting and finance profession would be required to set its skills and competencies to the task of realizing this ambition. By embracing the possibilities offered by the latest technology, they argued that accountants can improve an organisation's integrated thinking and decision-making capabilities, and that in turn this can promote responsible and sustainable business practices.
The audience heard that the accounting and finance profession is very well placed to play a significant role in the move towards sustainable business practices. Finance teams have a unique 'end to end' view of their organizations, and already have responsibility for collecting and analyzing corporate data. They will be the ones who can identify where changes and improvements can be made, and it will be their responsibility to lead the organizations they work in towards adopting and implementing these changes.
Andrew Harding, FCMA, CGMA, Chief Executive — Management Accounting at the Association of International Certified Professional Accountants, representing AICPA & CIMA, said:
"We are seeing increasing demand in Indonesia for our professional qualifications and training. This will grow the number of accounting and finance professionals who are able to manage the risks and grasp the opportunities presented by the need to develop sustainable business models and drive economic growth. Along with technological developments which are revolutionising the profession, that means that accountants in Indonesia have a once in a life- time chance to step up, instil trust and integrity, and lead the way in building the businesses of the future."