Realizing Increased Investment, Innovative Products of Manufacturing Industry Able to Penetrate Export Markets
By : Nata Kesuma | Friday, February 03 2023 - 11:02 IWST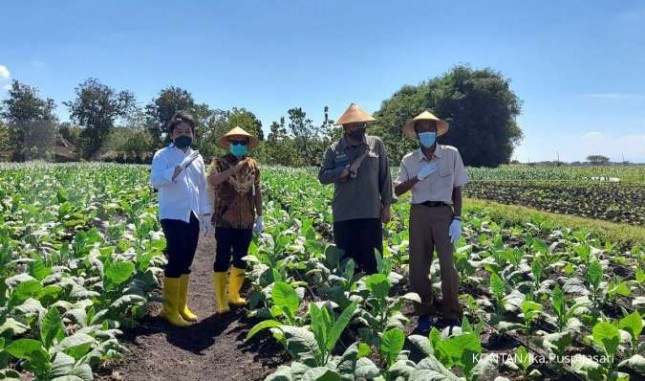 illustration. Tobacco planting by PT HM Sampoerna Tbk (HMSP) partner farmers. HM Sampoerna Tbk (HMSP) has been running a partnership program with tobacco farmers entitled 'Integrated Production System' for more than a decade. (ist)
INDUSTRY.co.id - The development of an innovative Tobacco Processing Industry continues to be encouraged by the Government, and at the same time, it is expected to increase investment. The Tobacco Processing Industry also has a broad multiplier effect and is a sector that absorbs a high enough workforce.
The Coordinating Minister for Economic Affairs Airlangga Hartarto virtually inaugurated the production facility and the initial export recall of innovative smoke-free tobacco products by PT HM Sampoerna Tbk. in Karawang, West Java, Thursday (12/01). Initial exports were made to Malaysia and the Philippines, followed by exports to 40 other countries.
"The investment made by PT HM Sampoerna Tbk. is expected to have a positive impact in encouraging innovation, as well as creating economic value in many sectors, including the MSME sector, traditional retail, partnerships with farmers, and R&D development," said the Coordinating Minister Airlangga.
PT HM Sampoerna Tbk. has realized an investment of USD186 million, exceeding the previously targeted investment commitment. As a result, the production facility will start operating in the fourth quarter of 2022 with a capacity of 15.45 billion cigarettes per year and will involve approximately 500 skilled workers supported by research and development facilities.
In the doorstop session following the inauguration ceremony, Secretary of the Coordinating Ministry for Economic Affairs Susiwijono Moegiarso said that the initial export of this innovative tobacco product was clear evidence that it was part of the strategy of the manufacturing industry sectors.
"So, we get two of these, we get investment, for exports, this boosts our trade balance. Then its multiplier effect in the real sector, we get it all," concluded Coordinating Secretary Susiwijono.
President Director of Sampoerna Vassilis Gkatzelis, on this occasion, also appreciated the Indonesian Government's conducive investment climate and commitment to maintaining national economic stability.
Also present at the inauguration were the Head of the National Research and Innovation Agency (BRIN), the Head of the National Standardization Agency (BSN), and the Director General of Agro-Industry, Ministry of Industry.