Gojek's Strategic Outlook for 2023: Enhancing Sustainability and Driving GoTo Group's Profitability
By : Nata Kesuma | Wednesday, March 08 2023 - 22:35 IWST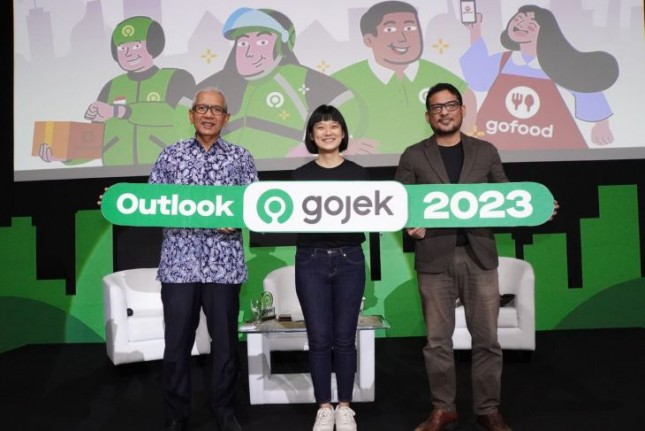 (ANTARA)
INDUSTRY.co.id - Gojek, the on-demand service business unit of GoTo Group or PT GoTo Gojek Tokopedia Tbk (IDX: GOTO), has reported strong operational and business performance, signaling positive news for GoTo as it pursues its accelerated profitability goal.
The goal aims for a positively adjusted EBITDA in Q4 of this year. Gojek recently discussed its plans for 2023 in a media event called 'Gojek Outlook 2023'. During the event, the company outlined three main strategies that focus on technology innovations, product variation, and creating lasting impacts for its partners.
President of GoTo's On-Demand Service Business Unit Catherine Hindra Sutjahyo explained, "While the shift in consumer behavior entering the post-pandemic era in 2022 posed various challenges for on-demand services, including transportation, food delivery, and logistics delivery platforms, it also opened unique opportunities for Gojek to continue innovating to address consumers' needs."
Catherine added, "Gojek's effective and relevant innovations to address the needs of ecosystem users have contributed to a positive margin, with a 31 percent year-on-year increase in gross income in Q3 of 2022. To continue being the preferred and reliable on-demand service, while also supporting GoTo's Group accelerated profitability, the company has prepared three key strategies for this year."
Gojek's three main strategies are:
1. Technology innovations to drive high consumer satisfaction. Technology optimisation will offer effective and on-point solutions that are aligned with consumers needs and preferences. This includes;
- Machine learning technology to enrich targeted food recommendations and promo strategy utilization in GoFood,
- Wider accessibility in ordering GoFood beyond the Gojek app (at Tokopedia, or through web orders),
- Scheduled ordering on GoFood and GoBox,
- GoSend's faster delivery fee estimation feature and a draft order feature
- Enhancement of Gojek's transportation arm through Priority Allocation-feature that enable consumers to be picked-up faster and targeted GoPay Coins promo.
2. Continuous improvement for product variation to boost growth across consumer segments. Gojek continues to enhance its products to accommodate and cater to different consumer needs across segments. Examples include GoFood introducing new features such as the Economical Mode (Mode Hemat) which offers free or discounted delivery fees to reach new users. In transportation, Gojek has expanded its GoTransit service to provide a more seamless multi-mode mobility experience, while also offering premium services like GoCar Luxe and GoRide XL for added convenience. Furthermore, the company plans to launch GoSend Car for larger items and cargo weighing up to 100 kg delivery through the Gojek app.
3. Lasting impact for partners. Aligned with its commitment to be the best growth partner for its driver partners and MSMEs merchants, Gojek is committed to supporting its partners through ongoing initiatives such as training and support programs, community development, and the development of easily accessible learning modules. For driver partners, Gojek has launched programs that include Gojek Swadaya, Bengkel Belajar Mitra, and Tips Pintar. For culinary merchants, Gojek delivers new learning modules through the GoFood Partner Community called KOMPAG. For online sellers, Gojek has created the GoSend Best Seller community and runs other impactful programs to make the merchant partner products more appealing to consumers. The goal of these initiatives is to assist partners in delivering reliable services to consumers, which will lead to socio-economic benefits for them.
"We believe that these three strategies, which are aligned with GoTo's strategy on integrated ecosystem-based products and services (ecosystem product growth), can drive long-term sustainable growth" Catherine explained.
Fithra Faisal, an Economist at the University of Indonesia and Director of Next Policy, saw Gojek's latest business strategy is in line with GoTo's commitment to achieving sustainable business growth.
"With the Covid-19 pandemic significantly influencing people's behavior, on-demand service companies such as Gojek must understand the changing needs and trends of consumers. Gojek's strategy, which emphasizes technology innovation and delightful experiences, has proved its expertise in deep consumer understanding. These strategies are expected to bring positive impacts to many stakeholders, including consumers whose lives are made easier with technology, as well as MSMEs who will receive full support to grow their businesses. If executed properly, these strategies will support Gojek's long-term growth while positively contributing to the digital economy sector and the national economy," said Fithra Faisal.
According to a study by Google, Temasek, and Bain & Company , Indonesia's digital economy is poised for further growth. The study found that there is continued interest from the public in using digital-based services, with 75% of Indonesians planning to continue using transportation services, 82% intending to keep using food delivery services, and 82% intending to continue shopping online for the next 12 months. This represents a significant potential demand for delivery services in the country. As Gojek focuses on technological innovations, product variation, and creating lasting impacts for its partners, it appears well-positioned to capitalize on this growing market.
Gojek's successful adaptation to the changing consumer behavior in the digital era has won praise from the government. The Coordinating Minister for the Economy, Airlangga Hartarto, recently lauded the company for its efforts, stating that it has made a significant contribution to the consumption aspect of the economy. This praise comes as the Indonesian economy shows strong potential, as demonstrated by the rising consumption confidence index. The government is predicting a 5.3% economic growth this year, driven by investment, exports, and consumption.
Said Airlangga Hartarto, "The growth of the digital economy has resulted in a change in behavior as consumers become more familiar with contactless (services), which has played a crucial role in Indonesia's positive economic performance. This trend has been boosted by e-commerce and on-demand services such as ride-hailing, online food delivery and other online-based activities."
Airlangga further stated, "With the collaboration between Gojek and the government in the food and transportation sectors, we are optimistic to achieve revenues of USD15 billion in those sub-sectors by 2025 which is a growth rate of above 22% (CAGR). As such, the government values Gojek as the leading on-demand service in Southeast Asia and hopes for Gojek to continue with its innovations in bringing in inclusive digital solutions, including partnership between the driver partners and MSMEs to address post-pandemic consumer demand.
"Independent business and product development based on an integrated ecosystem is expected to be the key for Gojek in supporting GoTo's accelerated profitability," said Catherine as she concluded the Gojek Outlook 2023 session. (ANTARA)