Meinhardt Groups Is The First Engineering Firm Headquartered In Singapore To Attain 19650 At The Group Level
By : Nata Kesuma | Thursday, March 16 2023 - 10:11 IWST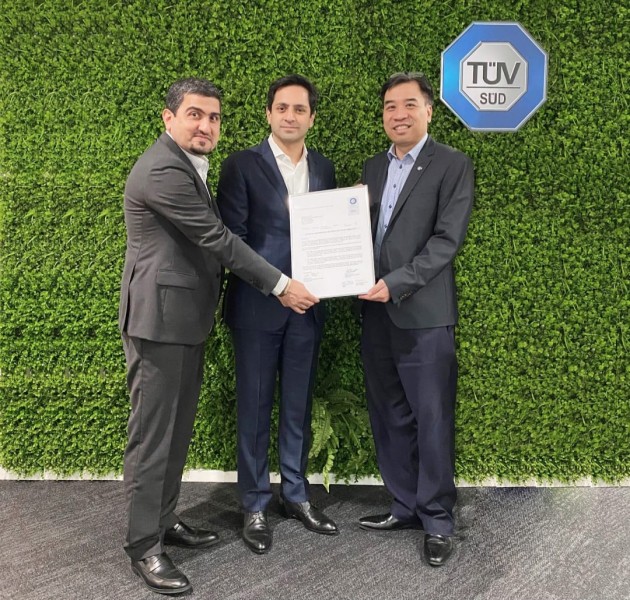 From left to right: Mr Behzad Meskini, Director of Group Digital Delivery; Mr Omar Shahzad, Group CEO, Meinhardt Group; Mr Foo Soo Guan, Senior Vice President, Business Assurance Division, ASEAN, TÜV SÜD PSB
INDUSTRY.co.id -
Singapore, March 15, 2023 – Singapore-headquartered global design, engineering, project and construction management firm, Meinhardt Group, has become the first engineering company in Singapore to achieve full ISO 19650 compliance at the group-wide level encompassing its Singapore and overseas offices.
The ISO 19650 is a series of international standards which define a common unified framework for the effective and collaborative production and management of information across the whole lifecycle of a built asset using building information modelling (BIM).
"We are proud to be the first engineering company with its global headquarters in Singapore to achieve the ISO 19650 certification at the Group-wide level. It is a clear affirmation of our relentless push for digital transformation and commitment to adhere to the best practices in our industry. Our certification underscores our digital push regarding operating systems and workflow processes pertaining to the digitisation of information related to buildings and infrastructure works," said Mr Omar Shahzad, Group CEO, Meinhardt Group.
Established by the International Organisation of Standardisation (ISO) in 2018, the standard was developed from the UK's now superseded PAS 1192, a tried and tested BIM information standard established by the British Standards Institution (BSI) in 2007. ISO sought to adapt and elevate this standard to an international level.
Meinhardt Group was endorsed and certified by TÜV SÜD, one of the world's leading providers of testing, inspection and certification (TIC) services. The scope of evaluation included the Group's internal standards and protocol, the roles and responsibilities of the BIM and digital information management personnel, as well as case studies including the Integrated Waste Management Facility (IWMF2) in Singapore and the Greenfield Airport in India.
"The Compliance Programme by TÜV SÜD for ISO 19650 is an extensive and practice-driven Industry Practitioners assessment to validate and confirm a company's overarching abilities and potential to execute ISO 19650 related measures. At the global level, TÜV SÜD has audited some 120,000 buildings and 7,000 projects for the ISO 19650 certification to date. In our experience, Meinhardt is one of the few organisations which has demonstrated to be such a well-organised and matured company qualifying for the standard. Meinhardt Group is outstanding in this regard and its achievement truly deserves recognition," said Mr Tobias Schmidt, Global Manager, Digital Lifecycle Solutions, TÜV SÜD.
For its submission to TÜV SÜD, the Meinhardt Group team led by the Director of Group Digital Delivery, Mr Behzad Meskini, produced a record number of design drawings.
"We submitted a well-coordinated model with minimal design errors within just two and a half months. This significant achievement resonates with Meinhardt Group's synergistic and data- driven approach made possible by the efforts and hard work of the team." said Mr Shahzad.
"Meinhardt's ISO 19650 certification bolsters its Integrated Digital Design (IDD) methodology, and results in more effective usage and distribution of data across key processes in the value chain such as Design for Manufacturing and Assembly (DfMA). This translates into an increase in productivity with less wastage of time and resources, thus promoting a greater push for sustainability and social equity," said Mr Eugene Seah, Global Board Member, Meinhardt Group and Chief Operating Officer, Meinhardt Singapore.
"Our compliance with ISO 19650 helps us to continually offer more value to our clients and partners, to help deliver the built environment projects under our care on time, within budget and in conformity with high standards but also with measurable productivity savings," Mr Shahzad added.