The first Learning for Life in Bali: Empowering Entrepreneurship & Digitalisation
By : Nata Kesuma | Wednesday, April 19 2023 - 18:05 IWST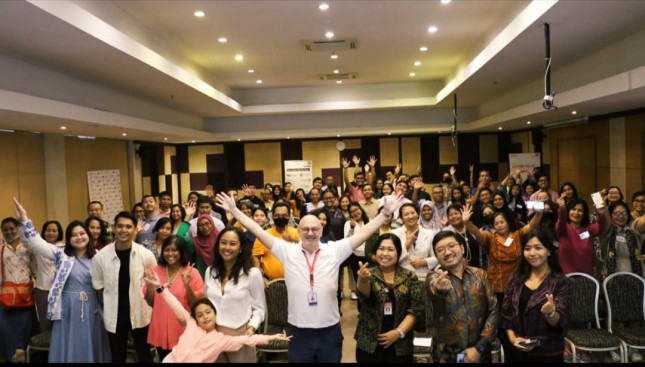 BritCham Indonesia and Diageo Indonesia held their first Learning for Life (L4L) seminar in Bali.
INDUSTRY.co.id - Following the successful 3-day workshop and seminar in Jakarta in April and December 2022, BritCham Indonesia and Diageo Indonesia held their first Learning for Life (L4L) seminar in Bali.
The target audience is young adults from small business owners and college students whose ambition is to start their entrepreneurship journey.
The L4L seminar was a free event and presented young professionals who were keen to share their knowledge and experience related to entrepreneurship and digitalisation. Topics of the seminar included Building Entrepreneurial Spirit and Mindset in the Digital Age, Tricks for Success in Pitching New Business Ideas, and finally All About the Trendiest Digital Marketing Strategy.
The event was held on Monday, 3rd April 2023 at Kuta Central Park Hotel and was attended by around 100 very enthusiastic participants.
"Thank you to Diageo Indonesia and BritCham Indonesia who are encouraging SMEs in Bali and of course support from all stakeholders is needed regarding the New Era of Entrepreneurship, both in the form of programmes and the provision of infrastructure that can encourage the development of SMEs in Bali," said Ni Wayan Mulianingsih, Head of Entrepreneurship Department of Cooperatives, Small and Medium Enterprises of Bali Province, in her opening remarks.
Stephan Sinisuka, Head of Communications and ESG Diageo Indonesia highlighted that "SME is the backbone of Indonesia's economy and by working with our partners and stakeholders, Diageo will be able to create shared value for the communities where we live, work, source and sell as we accelerate the recovery of our community and economy in the area." Mary Osmond, Director of Forest Carbon Conservation on behalf of the BritCham Board Members also welcomed the participants.
Wawan Kurniawan as Diageo Brand Ambassador for Indonesia performed an interactive session to introduce various processed fermented drinks. During this session, the participants were invited to create some unique recipes from the fermented drinks and of course, the participants were encouraged to always drink responsibly. Dian from the Indonesia Open University said "The seminar was really good and productive and I got a lot of great ideas from this event."
This seminar is not only a 1-day event experience. Some lucky participants will now get the opportunity to join a 3-day internationally certificated Hospitality and Tourism workshop in May 2023.