President: Don't Let Logistics and Production Roads Be Severely Damaged
By : M. Shaqeel | Friday, May 19 2023 - 05:55 IWST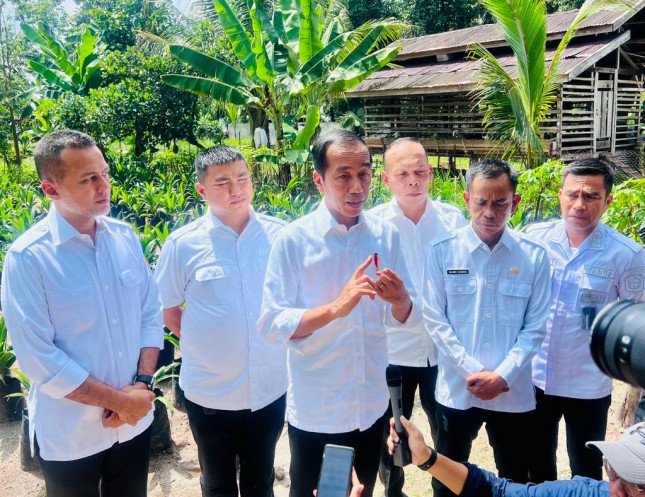 The President gives a press statement at SMK PPN 1 South Kualuh, North Labuhanbatu Regency, North Sumatra Province, Wednesday (17/05/2023). (Photo: BPMI Setpres/Laily Rachev)
INDUSTRY.co.id - RI President Joko Widodo (Jokowi) emphasized that the road infrastructure improvements that the government continues to encourage are so that production and logistics roads are not disrupted.
Because if the route is disrupted, it has the potential to increase logistics costs which in turn can trigger an increase in inflation.
"Don't let the so-called logistics lines, the production roads are badly damaged, it will disrupt and will increase logistics costs, increase inflation. That is our goal to improve infrastructure," said the President in his statement at the State Development Agriculture Vocational School (PPN) 1 South Kualuh, North Labuhanbatu Regency, North Sumatra Province, Wednesday (17/05/2023).
For this reason, the President said that the government would immediately carry out repairs to damaged road infrastructure in North Sumatra Province. These improvements are not only for the Jalan Gunting Saga section which is under direct review by the President, but also the road in Asahan.
"Yes, it will be done immediately, God willing, everything will start in July, and not only in North Labuhanbatu, including in Asahan because our identification is complete," he added.
Apart from these two roads, the President also said that repairs would be carried out on other roads in North Sumatra (North Sumatra) Province. "But also not only in North Sumatra, we will check all the other provinces one by one," he added.
Furthermore, the President said that the government has prepared a budget of IDR 800 billion for the repair of all roads in North Sumatra Province. The President also reminded that the provincial and district/city governments still have the responsibility to repair the roads they are responsible for.
"This is how we take infrastructure roads that the district/city and province don't have the capacity for, so we take some of them, some are still the responsibility of the province, district/city. Don't go easy on being taken over, the regencies/cities are sleeping instead, no, that's not the point. We want to help, accelerate, repair because of public complaints, "he said. (BPMI SETPRES/AIT)