Eastspring Capital Markets Will Continue Positive Trends
By : Arya Mandala And Aldo Bella Putra | Friday, February 16 2018 - 17:00 IWST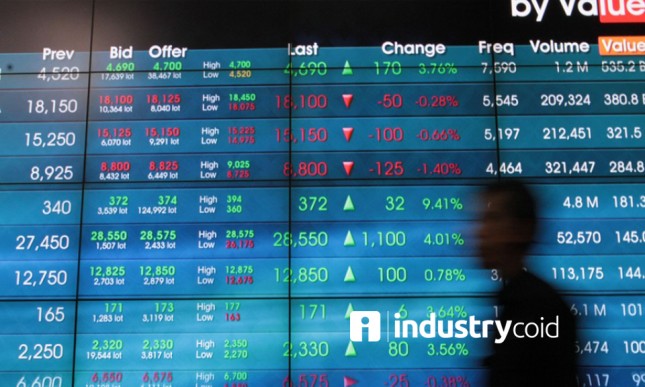 Perdagangan saham di IDX (Rizki Meirino/Industry.co.id)
INDUSTRY.co.id - Jakarta, PT Eastspring Investments Indonesia is optimistic that Indonesia Capital Market will still grow positively throughout 2018.
Solid economic fundamentals as well as the recovery of the global economy are sustained.
The investment manager, who is also part of Prudential PLC, PT Eastspring Investments Indonesia, expressed the optimism when deploying Market Outlook 2018 in Jakarta some time ago.
It is said Alan T Darmawan, President Director of PT Eastspring Investments seminar half of the day is intended for customers, business partners and mass media, as a form of Eastspring commitment in providing updated information about market and economic conditions both local and global.
In addition to Alan, the half-day seminar features Virginie Maisonneuve, Chief Investment Officer of Eastspring Investments and Ari Pitojo, Chief Investment Officer of Eastspring Investments Indonesia as a speaker.
Last year, in line with the global economic recovery, Indonesia's economic condition has also increased," said Ari Pitojo.
According to him, in 2017, investor confidence improved driven by obtaining investment grade rating from S & P for Indonesian government debt.
"It contributes to the printing of new records in both the stock and bond markets," said Ari Pitojo in his presentation.
Virginie Maisonneuve added that Indonesia's good performance is also linked to a series of economic policy packages launched by the government since 2015.
The government's economic policy package launched aimed at increasing trade and investment, including accommodative monetary policy, spending on higher public infrastructure development, and a series of industrial deregulation measures.
In the next 12 months, we expect the Indonesian economy will continue to grow with public consumption and government spending as a growth engine, he said.
Further said, the continued economic recovery boosts global commodity prices, it will also have a positive impact.
Overall, solid Indonesia's economic fundamentals will continue to support the capital market and become a magnet for investors to invest in Indonesia's capital market.
We see in the next 12 months many promising investment areas, he said.
Therefore, as a long-term investor with a managed fund of Rp 73.3 trillion per December 29, 2017, Eastspring Indonesia offers a variety of products from stock asset classes, fixed and sharia revenues designed to meet the various needs of investors.