Yamaha Launches Multipurpose Products for Better Life of Indonesia
By : Ridwan And Aldo Bella Putra | Saturday, February 24 2018 - 22:00 IWST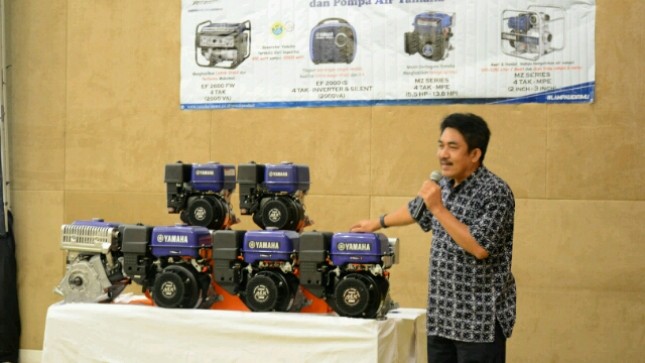 Peluncuran Yamaha MX Series (Foto: Humas)
INDUSTRY.co.id - Jakarta, Technology provides a significant change in all aspects of human life in various sectors. Agricultural, fishery and forestry sectors are also not spared from the development of this technology itself.
As the largest archipelagic country, Indonesia has the potential and diversity of abundant natural resources. With an area of ​​3.2 million kilo meters of water and a land area of ​​1.9 million kilo meters square, Indonesia holds abundant natural wealth that can be managed independently.
That is why the Yamaha Power Product, which has helped the lives of Indonesians in the fisheries and agriculture sector for more than 30 years with the versatile "MZ Series" engine, created a new innovation as a continuation of the series which has now been launched and named "MX Series". The launch of MX Series was held Saturday, February 24, 2018 at Harris Hotel, Kelapa Gading, North Jakarta.
Some of the advantages of MX Series are:
1. Provide great power with high level of fuel efficiency, through high-tech machinery work system.
2. Offers the latest design engine displays that provide high payday, including 3 other things: Reliability, Usability and Mountability.
3. Yamaha MX Series with type above 6.4HP also provides fuel consumption more efficient but more powerful than other brands.
The innovation of YamahaMXSeries has better specifications so that it can be used in many types of applications, such as tools and forestry such as corn Sheller machine, rice threshing machine, palm kernel machine, multipurpose chopper machine, grass chopper machine, etc. It can also be used for fishing boat and cargo engine Mixer Molen small size.
"Yamaha hopes that with this new machine, it will be able to assist the work of the Indonesian community in all sectors, especially agriculture, fisheries and forestry, especially in the current era of government, which is getting more attention because it is the main driver of the Indonesian economy," said Sahrial as Manager of Power Product PT Yamaha Indonesia Motor Manufacturing (YIMM).