Strengthen OPZ, Rakernas BAZNAS Born 27 Resolutions
By : Nina Karlita And Aldo Bella Putra | Friday, March 23 2018 - 17:00 IWST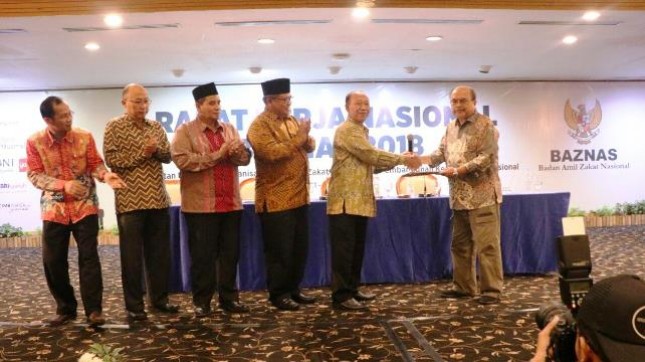 Ketua BAZNAS, Prof. Dr. Bambang Sudibyo, MBA, CA, (fOTO Dok Industry.co.id)
INDUSTRY.co.id - Denpasar - Zakat National Working Meeting (Rakernas) Badan Amil Zakat Nasional (BAZNAS) 2018 gave birth 27 resolutions. The congregation that followed 700 participants from all over Indonesia went well, successful and full of enthusiasm. This becomes a sign of the national zakat awakening movement will be increasingly enlarged.
Thus expressed Chairman BAZNAS Prof. Dr. Bambang Sudibyo, MBA, CA, when closing Rakernas BAZNAS 2018 in South Denpasar, Bali, Thursday (22/3/2018). Rakernas with the theme "Strengthening Zakat Management Organization (OPZ) For National Welfare Development".
"Alhamdulillah, Rakernas 2018 run smoothly and successfully to give birth to 27 resolutions. With the blessings of Almighty God, the participants of the National Working Meeting of BAZNAS 2018 are committed solemnly to carry out the task of zalcat management by implementing the resolution in order to make the development successful, especially to alleviate poverty with mustahik empowerment programs until they become muzaki," said Bambang .
According to him, there are several matters decided by rakernas, among others, BAZNAS, provincial BAZNAS, district / municipal BAZNAS and Lembaga Amil Zakat (LAS), committed to perform their duties professionally, accountable in accordance with Islamic law and constitution; maintaining neutrality, not affiliated with political parties and not following practical political activities; improve the national zakat collection performance to achieve the national target of 2018 of Rp 8 trillion.
Then, continued Bambang, BAZNAS, BAZNAS province, BAZNAS districts / cities and LAZ conducted a campaign and socialization together about the national pronunciation; publish the results of National Zakat Index (IZN) measurement in 2017 and 2018; developed a database system to serve 5,850,000 muzaki per person and 5,000 body muzaki in 2018.
In addition, Bambang added, BAZNAS follow up on the cooperation of muzaki and mustahik database with the Directorate General of Dukcapil Ministry of Home Affairs and Ministry of Social Affairs; Provincial BAZNAS and district / city BAZNAS coordinate with LGs to encourage and optimize zakat collection regulations and provision of APBD for operational costs of provincial BAZNAS and district / city BAZNAS.
This former Finance Minister appreciates the hard work of the committee and members, directors and amil-amilat BAZNAS for the success of this grand and urgent event. "I appreciate Pak Jaja Jaelani, Secretary of BAZNAS who is also Chairman of the 2018 Rakernas Committee. Alhamdulillah Minister of Religion Mr. Lukman Hakim Saifuddin is pleased to open and provide an important direction for the national zakat awakening," said Bambang.
The Secretary General of World Zakat Forum (WZF) is also grateful to the Bali Provincial Government, Bali Police Chief, Pangdam Udayana and Balinese people who are extremely tolerant and polite to the guests. "Thanks also to the resource persons for their valuable inputs and criticism, solely for the improvement and progress of BAZNAS. Like the PMK Coordinating Minister of Education and Religion Deputy, Prof. Dr. Agus Sartono and Vice Minister of Finance Mr. Mardiasmo, "said Bambang.
Previously, the same thing was submitted by the members of BAZNAS, Prof. Dr. Mundzier Suparta, after leading the last plenary session of rakernas. Mundzier was accompanied by Deputy BAZNAS, M. Arifin Purwakananta, Secretary of BAZNAS who is also Chairman of the 2018 Rakernas Committee, Drs. H. Jaja Jaelani, MM, and two Directors of BAZNAS Mohd. Nasir Tajang and Revelation TT. Kuncahyo.
On that occasion, Mundzier Suparta submitted the resolution to the Chairman of BAZNAS Prof. Dr. Bambang Sudibyo, MBA, CA who was accompanied by Vice Chairman of BAZNAS, Dr. Zainulbahar Noor, SE, M.Ec. The resolution was also submitted to representatives of the regional BAZNAS and one of the LAZ representatives.
Meanwhile, Chairman of the House Committee Jaja Jaelani pointed out, rakernas increasingly spurred and triggered the awakening of zakat across the country. "Alhamdulillah, Rakernas BAZNAS 2018 went well and successful. We extend our gratitude to all parties, so this Rakernas increasingly spurred and triggered the national zakat awakening," said Jaja.