Supply Guarantee and Stable Chili Price, Ministry of Agriculture Holds Auction Market in Malang
By : Wiyanto Dan Aldo Bella Putra | Thursday, June 07 2018 - 18:00 IWST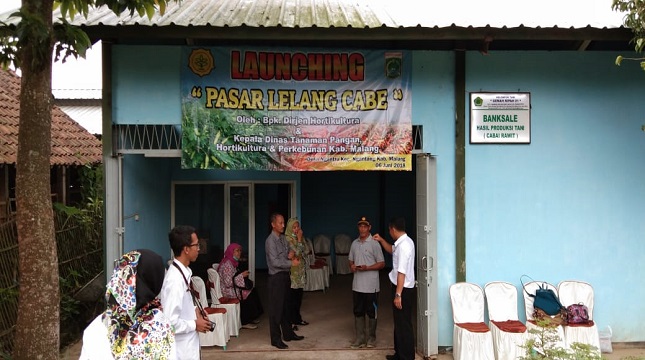 Pasar lelang cabai di Malang, Jawa Timur
INDUSTRY.co.id - Ministry of Agriculture (Kementan) through the Directorate of Horticulture held the first time chili auction market in Malang regency, Wednesday (6/6/2018). Previously, the districts running the auction market namely Sleman, Kuponprogo, Magelang, Karanganyar, Temanggung, Banyuwangi, Kediri, Siborong-borong and Cianjur.
Auction market location in Malang regency in Ngantru village, Ngantang district. In this area there is a farmer group called Gemah Ripah 1. Tens of youth joined in this farmer group. The head of his group, Yogiantoro, is already 55 years old. But the dozens of members he manages are still in their 30s. This young age group is actively developing the farm, especially vegetables, in the village of Ngantru.
The interesting story of the spirit of the farmers, including the young farmer, was found when the Director General (Horticulture) Ministry of Agriculture (Kementan), represented by the Director of Processing and Marketing of Horticultural Products (PPHH) Yasid Taufik, visited Ngantru Village on June 6, 2018. one young farmer named Agung Widodo, 33 years old. Agung tells how various types of vegetables, including chillies, becomes a mainstay of life for the majority of households in Ngantru. Rotary planting pattern is commonly done Ngantru society, ranging from planting potatoes, then onion and then chili.
As for chili, which is commonly cultivated by Ngantru Village community is a local species, namely chili Mhanu. Chili is a mainstay because it can last a long time, ie up to three weeks in the refrigerator. This chili is also quite spicy because it entered in the chili pepper class.
Typically, chilies are planted with intercropping systems, for example along with beans, tomatoes or mustard greens. All depends on the choice of each and the type that is in the market. Agung said that from the horticultural crops of these vegetables people can live adequately.
Agung himself has been a vegetable farmer, including chili, since 2008. The choice to be a farmer is steadily dilekuninya. "Being a farmer is promising, from planting vegetables, including chili, I can live and provide for family needs," said the man is optimistic.
Farming options for the youth of Ngantru Village certainly make sense. Reflecting on the success of senior farmers who have more experience in cultivating horticultural crops, young farmers can see that growing vegetables can always be a source of life.
Great Persistence and other peasants do become a separate record. Because of his farming spirit, every inch of land, including the yard, is not left idle. Anything is tried to be planted. "To the extent by other villagers, we are practically greedy, because whatever we try to plant, wherever it is," said Agung chuckled.
Innovation and persistence of farmers Ngantru also recognized by one of the agricultural extension, Evi Sriwidayati. This young aged instructor illustrates how much he learns from the farming practices of Ngantru farmers. "I know the theory, the pratiknya from the peasants, Clop already," said Evi happy.
Indeed from this visit it can be seen that persistence and creativity are the keys to progress. In the context of agriculture, the recipe has brought a fairly decent life for Ngantru farmers.
All this is not just a figment. The Directorate General of Horticulture Kementan witnessed a row of farmers' houses that are good and illustrates more than enough standard of welfare.
"Agriculture, including horticulture, is ultimately expected in the welfare of farmers," said Yasid Director, who is pleased to see the success of Ngantru farmers.