Optimistic Ministry of Agriculture Keeps Rice Production in Dry Season
By : Herry Barus And Aldo Bella Putra | Monday, August 13 2018 - 18:00 IWST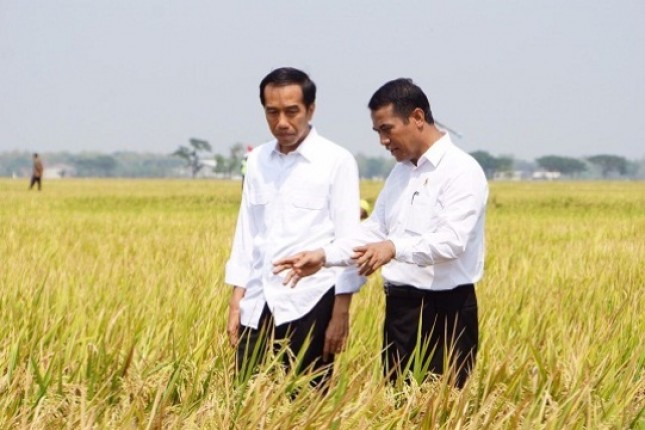 Menteri Pertanian Amran Sulaiman dan Presiden Jokowi (Foto (Humas)
INDUSTRY.co.id - Jakarta - The Ministry of Agriculture is taking strategic steps to anticipate the peak of the dry season based on estimates from the Meteorology, Climatology and Geophysics Agency (BMKG) in August and September 2018. A number of anticipatory measures that have been carried out by the Ministry of Agriculture are believed to be able to maintain agricultural production, especially rice.
"All ministry officials and we together go to the field to help farmers directly in their rice fields. Look for water sources and maintain a 1 million hectare crop this August to keep harvesting," Agriculture Minister Andi Amran Sulaiman said when questioned on Sunday (12 / 8/2018).
Sumarjo Director General of Food Crops, Ministry of Agriculture, Gatot Irianto, when interviewed in his office on Friday (10/8) stated that a number of comprehensive measures had been taken, including: accelerating planting in areas that have not experienced drought, using rice seeds specifically for dry land, and the application of technology and mechanization for water supply. Institutionally the Ministry of Agriculture also increases socialization and coordination to all stakeholders in each region.
In general, Gatot stated that drought season should not always be seen as something bad. According to him, there are many opportunities and opportunities to improve the quality and quantity of production if managed properly.
Gatot added one of them was the opportunity to utilize the planting area in the swamp. The swamp was originally a water level of 1 meter, in the dry season fell to 20-30 cm, making it an opportunity for new planting areas. "In addition, the dry season can be utilized to the maximum extent possible because of better yields, fewer pests, good sunlight for photosynthesis, and better grain quality," he explained optimistically.
The Ministry of Agriculture's positive attitude is also supported by extensive data on this year's cropping which is better than the previous year. Compared to October-July 2016/2017, planting in the same month of 2017/2018 was a surplus of 738,524 hectares. In addition, the planting area in June as the beginning of the dry season in 2018 reached 984,234 hectares, also still better than in the same month last year which was 933,390 hectares.
"This increase is important because in some places, according to BMKG, the dry season has declined, the Ministry of Agriculture is committed to accelerating rice planting in several regions, especially those that can still use the rain," he explained.
Application of Technology

In some areas that have already experienced drought, the Ministry of Agriculture has taken steps by utilizing the results of agricultural innovations that are suitable for the dry season. One example of dry land cultivation that has already begun is at the location of assisted farmers, Poktan Berkarya, in Lobusona Village, South Rantau District, Labuhan Batu, North Sumatra.
Director of Serelia, Directorate General of Food Crops, Ministry of Agriculture Bambang Sugiharto explained that his party had encouraged farmers to use superior seeds for dry land, namely Inpari 32. "Labuhan Batu area targets 10,000 hectares of new dryland rice growing area to be planted in September 2018. "Maintaining rice production in the North Sumatra region, which in fact is a rice center," he explained.
Bambang also stated, the Ministry of Agriculture's allocation of assistance for dry land in North Sumatra covers an area of ​​124,701 hectares. The area is embedded up to this day covering an area of ​​32,079 ha with, so that a broad target for August 2018 daily planting in North Sumatra is at least 3,500 ha. Areas that have great potential for dryland rice plantations in Sumatra are in Madina, Simalungun, Deli Serdang, Langkat, Serdang Bedagai, and Labuhan Batu Utara.
Nationally, Bambang also explained, rice cultivation in dry land is also a way to maintain national rice production. The Ministry of Agriculture through the Directorate General of Food Crops is targeting the planting of Gogo rice on dry land covering an area of ​​1 million hectares.
"Dry land is expected to be a new potential for rice cultivation besides rice paddies, considering the rise of land conversion in rice fields. The potential use of dry land rice can use plantation land, forestry or intercropping," he explained.
In addition to special dryland seeds, Director of Food Crop Protection, Director General of the Pagan Plant Ministry of Agriculture Yanuardi also encouraged the adoption of adaptation technology to overcome the effects of drought, including the application of Biopori and Injectable Wells. Making bipori holes in addition to anticipating the occurrence of flooding by making rainwater quickly seep into the soil also makes the soil not lose water fast during the dry season. Meanwhile, the manufacture of injection wells is expected to be an alternative source of irrigation when entering the dry season, especially in rain-fed rice fields.
"The Ministry of Agriculture has mapped which areas have been allocated the technology in 18 provinces. The total allocation of 400 biopori and injection wells. "Aceh, West Sumatra, West Nusa Tenggara, for example, get Biopori technology, while the rest use injection wells," he explained.
It was mapped that, the location where the chance of a large drought was in the Java coast line due to the decrease in rainfall. However, other factors also need to be calculated, namely by maximizing the use of rivers, ponds and reservoirs that still have a lot of water discharge and can be pumped.
The Ministry of Agriculture has also carried out massive coordination in each region so that the anticipatory steps run optimally, namely by deploying babinsa, agricultural services, Kodim, special effort teams (upsus), and Dinas Branch Offices (KCD). Besides that, standing crop security efforts work with the TNI so that obstacles in the field can be overcome.
"Everything goes down to ensure that drought is not an obstacle but an opportunity. Mapping, data collection, until the implementation of anticipatory steps is expected to be maximized, "concluded Gatot repeating Minister Amran's request.