Investment of IDR 450 Billion, Omni Group Begins to Operate the 4th Hospital in Pekayon
By : Kormen Barus And Aldo Bella Putra | Wednesday, September 12 2018 - 16:00 IWST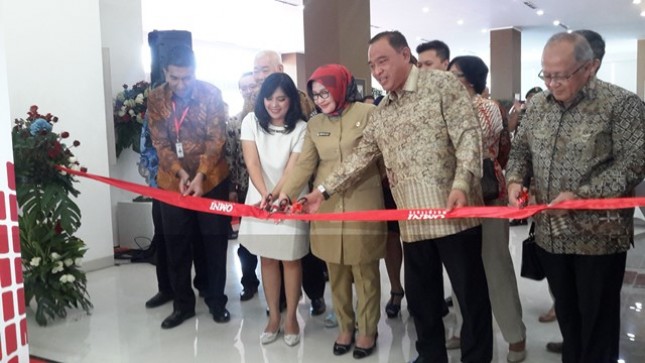 Investasi Rp 450 Miliar, Omni Grup Mulai Operasikan Rumah Sakit ke-4 di Pekayon (Foto Kormen)
INDUSTRY.co.id - Bekasi - PT Sarana Meditama Metropolitan Tbk (IDX: SAME), owner and manager of OMNI Hospitals Group, through its subsidiary PT Kurnia Sejahtera Utama, on Monday (09/10/2018), carried out the Soft Opening of OMNI Hospitals Pekayon. This is the fourth Hospital after OMNI Hospitals Pulomas, OMNI Hospitals Alam Sutera, and OMNI Hospitals Cikarang.
The city of Bekasi is one of the centers of economic growth, which attracts urbanization so that the population of Bekasi City ranks fifth in the most populous city in Indonesia and the second most after Jakarta in Jabodetabek.
As one of the most densely populated and high-mobility cities, lifestyle changes among the middle class cause many lifestyle-related diseases such as diabetes, heart disease, cancer etc., so WHO estimates 87% of deaths by 2030 will be caused by diseases related to the lifestyle that is increasing every year in the instant era in the digital era.
"Today's OMNI Hospitals Pekayon Soft Opening today is a testament to the commitment we made during the Topping Off Ceremony on May 14, 2018, namely to continue to grow and provide comprehensive services for the community and companies, especially in Bekasi and the surrounding areas, said S.Shrikanth - President Director of OMNI Hospitals .
S. Shrikanth explained the construction of OMNI Hospitals Pekayon was driven by concerns over the increasing number of diseases that were influenced by lifestyle patterns, as well as the high demand for quality health services in the housing and corporate sectors around South Bekasi. OMNI Location Pekayon Hospitals are very strategic, surrounded by middle and upper middle class housing like Kemang Pratama, Grand Galaxy, and Galaxy Park with easy and varied access.
Meanwhile Hassan Themas, Director of PT Sarana Meditama Metropolitan Tbk said, OMNI Hospitals Pekayon has a building area of ​​approximately 20,000 m2, consisting of 8 floors, including 2 basement floors. Besides being served by experienced specialists, OMNI Hospitals Pekayon is also equipped with modern equipment such as 128 Slices CT Scan, 1.5 Tesla MRI, Cath Lab, Endoscopy, Arthroscopy, Hemodialisa, Laboratory. OMNI Hospitals Pekayon has 184 bed capacity for treatment classes starting from Class 3 to VVIP. 46 Polyclinics, 8 beds of ED, 5 Operating Rooms, 17 beds of ICU-NICU-PICU and 11 beds of Hemodialysis.
Dr. Rona Tiurani - Director of OMNI Hospitals Pekayon added, Many reputable specialists have been interested in joining OMNI Hospitals Pekayon, including doctors whose specialties are still rare in Indonesia, such as Neurosurgeons, Surgical Oncology.
OMNI Hospitals also has excellent service centers such as the Cardiovascular Center, Neuroscience Center, and Orthopedic Center with the latest equipment, to meet the needs of the community and patients around Bekasi. In addition, for reference, in the other three OMNI Hospitals, there are excellent specialization services for Urology, Kawasaki, Digestive & Bariatic, Oncology Surgery, Fertility and Diabetic & Metabolic. As well as the latest innovations, namely lung and heart cancer screening with LDCT (Low Dose CT Scan) which requires only 10 minutes of examination time, Virtual Colonoscopy (pain-free colon cancer screening).
Omni Pekayon Hospital began construction in December 2017 and entered the topping off stage or closed the roof in May 2018. The total investment disbursed for the construction of this hospital reached US $ 450 million, including for land acquisition. While the total investment for superior technology reached Rp 30 billion.
Hassan Themas, said that the new hospital Omni network is still in the type B category. However, the company targets the Omni Hospitals Pekayon standard to immediately match the three previous hospitals.
"Omni Hospitals in Pulomas, Alam Sutera, and Cikarang have obtained five-star equivalent certification. We will also be like Pekayon Hospital," Hasan said.
After Pekayon, in fact, Sarana Meditama also has a similar project in Balikpapan. But the progress of the project's work is still not bright. The construction of the hospital has been delayed until now because the commodity industry is sluggish. "We used to buy the land when the commodity was booming. Now the industry is sluggish, so we don't know when it will start to be built. Right now we are still surveying the market," Hasan said. (Kormen)