President Jokowi Inaugurates Governor, Deputy Governor of C. Kalimantan
By : Nata Kesuma | Thursday, May 27 2021 - 21:15 IWST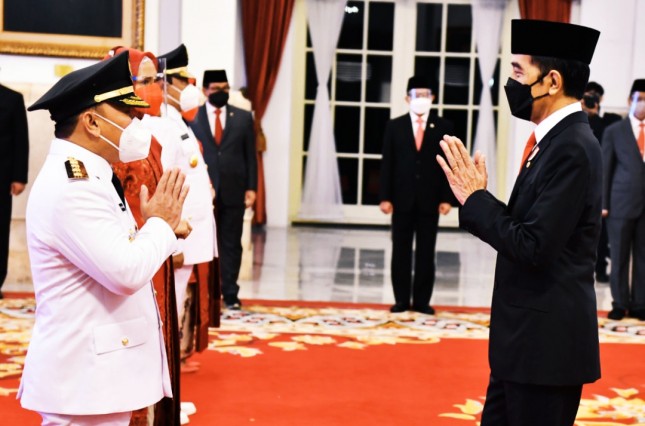 President Jokowi greets Governor of Central Kalimantan for 2021-2024 term Sugianto Sabran, Tuesday (25/5), at the State Palace, Jakarta. (Photo by: PR of Cabinet Secretariat/Rahmat)
INDUSTRY.co.id - President Joko "Jokowi" Widodo, on Tuesday (25/5), inaugurated Sugianto Sabran and Edy Pratowo as Governor and Deputy Governor of Central Kalimantan Province for the 2021-2024 term at the State Palace, Jakarta.
Prior to the inauguration, the elected pair received an excerpt of Presidential Decree at the Merdeka Palace, Jakarta. Subsequently, President Jokowi, Vice President Ma'ruf Amin, Minister of Home Affairs Tito Karnavian, and the elected pair joined a parade to the State Palace.
The inauguration was based on the Presidential Decree Number 76P of 2021 on the ratification of the dismissal and appointment of Governor and Deputy Governor of Central Kalimantan, signed by the President on 5 May 2021, in Jakarta.
After a reading of the Presidential Decree, the Governor and the Deputy Governor took an oath before the President. "I do solemnly swear to fulfill my duties as governor/deputy governor to the best of my abilities and in the fairest way possible, to uphold the 1945 Constitution of the Republic of Indonesia by all means, and to execute all laws and regulations as straightforwardly as possible, as well as to dedicate myself to the service of the community, the homeland, and the nation," the oath reads.
The ceremony ended with congratulatory messages from the President and Vice President as well as the limited invitees.
After the inauguration, the Governor, accompanied by Deputy Governor, delivered his press statement. Sugianto stated that President Jokowi spoke on the importance of COVID-19 handling in Central Kalimantan for economic growth.
"Within 100 working days, we will continue to work as usual, namely, in addition to COVID-19 handling, the economy be it SMEs, development in the fields of infrastructure, education, and health, as well as the economic development of the community at large in Central Kalimantan," he said.
Accompanying President Jokowi and Vice President at the ceremony were Cabinet Secretary Pramono Anung, Coordinating Minister for Political, Legal, and Security Affairs Mahfud MD, and Minister of Home Affairs Tito Karnavian.