Regions Allowed to Use Regional Funds for COVID-19 Handling, Sri Mulyani Says
By : Nata Kesuma | Friday, June 25 2021 - 18:15 IWST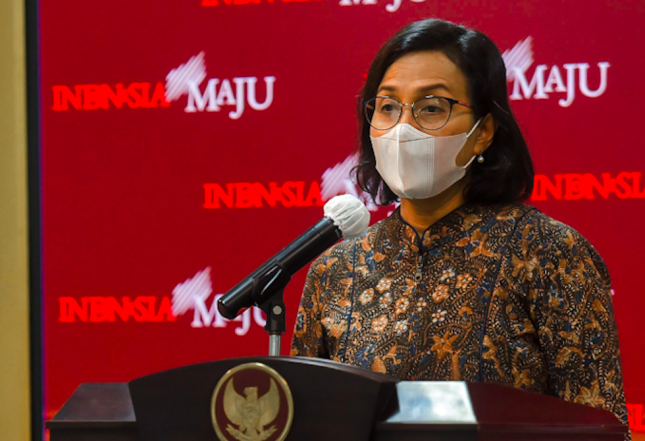 Minister of Finance Sri Mulyani (Photo: Cabinet Secretariat)
INDUSTRY.co.id - Village Fund, the General Allocation Fund (DAU) and the Revenue Sharing Fund (DBH) can be allocated for national vaccination drive, which is targeted to reach one million doses per day, Minister of Finance Sri Mulyani has said.
According to her, regional fund allocation can help the Central Government in combatting COVID-19 pandemic, as well as in the national economic recovery measures.
"Ministry of Finance allows the use of the DAU and the DBH to assist vaccination drive and to assist sub-districts / villages to implement health protocols and micro-scale public restrictions. Incentives for health workers who work in regional hospitals or offices can also use the DAU and DBH, as well as other health spending," the Minister said during a Working Meeting with Committee IV of the Regional Representative Council (DPD), Monday (21/6).
During the meeting that discussed the Macroeconomic Framework and the Principles of Fiscal Policy (KEM PPKF) 2022, Transfers to the Regions of the 2022 State Budget Plan (RAPBN), and Supervision of the Realization of National Economic Recovery in the Regions, Sri Mulyani also underscored that eight percent of the Village Fund or amounting to Rp3.84 trillion can be used for handling the COVID-19 pandemic in the regions.
"For all provinces, the Village Fund, the DAU and DBH can be used for handling COVID-19. Along with the budget from the Central Government which is also channeled through Ministry of Health and the National Disaster Management Agency (BNPB), we should be able to handle COVID-19 well," she remarked.
Nevertheless, the use of the budget, she pointed out, needs to be carried out appropriately and quickly because the pandemic requires quick handling. She also emphasized that the Government will manage the budget carefully, transparently and accountably.
"We will continue to support the regions in using these funds appropriately and quickly because we need speed [in handling COVID-19], but that does not mean it is not appropriate because the budget will still be audited by the BPK (Financial Audit Board) and must be accountable to the public," she said.