ZINC Sales of Iron Ore Soared 676.3%
By : Nata Kesuma | Thursday, November 04 2021 - 21:00 IWST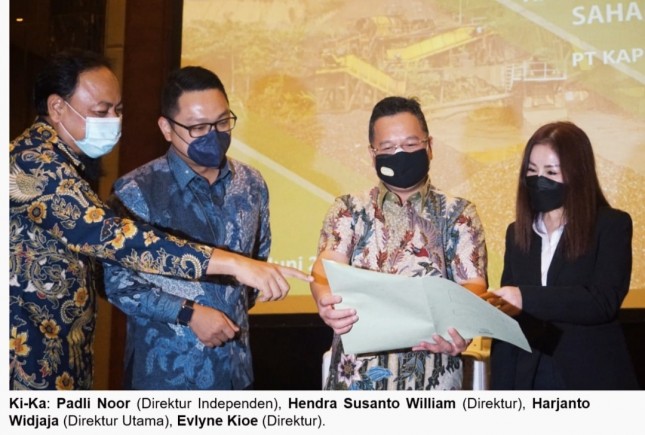 PT Kapuas Prima Coal Tbk ("ZINC")
INDUSTRY.co.id - Jakarta, November 4, 2021 – PT Kapuas Prima Coal Tbk ("ZINC"), a listed company in Indonesia that produces base metal, seized the opportunities from rising commodity prices and global economic recovery.
As of September 2021, ZINC recorded sales of IDR612,6 billion or an increase of 61.0% compared to the same period in 2020. Meanwhile ZINC's net income also surged by 148.0% to IDR65,4 billion from IDR26,4 billion in the same period in the previous year.
This achievement was driven by ZINC's iron ore sales which increased very significantly in the third quarter of 2021, reaching 676.3% or IDR57,5 billion. This year ZINC also gained additional sales of iron concentrate amounting IDR100,1 billion.
Director of ZINC, Evelyne Kioe said, "This positive performance achieved in the third quarter could not be separated from the on-going trend of increasing commodity prices and supported by our efforts to increase production capacity. As of September 2021, ZINC's total production has reached around 350.000 tonnes, and we hope that by the end of the year we can achieve our production target of 564.000 tonnes."
ZINC's sales by the third quarter of 2021 were dominated by zinc concentrate sales, which reached IDR260,4 billion or a 42,5% contribution to ZINC's total sales.
Then followed by sales of iron concentrates amounting to IDR100,1 billion, silver amounting to IDR98,6 billion, lead concentrates amounting to IDR95,9 billion, and iron ore sales amounting to IDR57,5 billion.
The company focuses on maximizing sales until December 2021, seeing the current price of Zinc (Zn) in the range of US$3,200/tonnes, Lead (Pb) in the range of US$2,300/tonnes, and the price of Silver (Ag) in the range of US$23/ozt will encourage a positive performance for the Company.
Meanwhile, along with growth in performance, ZINC also continues to increase reserves and resources for production. ZINC expanded its exploration area to 25% of the Company's total mining area of 5,569 Ha which is divided into two Mining Business Permits (IUP).
According to Evelyne, ZINC has only explored an area of 390 hectares or approximately 8% of the total concession area. Then in 2020, the Company obtained additional permits for around 1,169 hectares, as a result, ZINC's total exploration area currently amounts to almost 1,600 hectares or approximately 25%.
"The exploration process is aimed at determining where mineral reserves are located. If lead and zinc are still found in the exploration process, we will continue to increase our production capacity, which is also supported by an increase in the capacity of the smelter currently being built.
This is in line with the regulation of the Minister of Energy and Mineral Resources, that any additional concentrate production must be sold to domestic smelters," concluded Evelyne.
An overview of PT Kapuas Prima Coal Tbk ("ZINC")
PT Kapuas Prima Coal ("ZINC") is a company engaged in the mining of iron ore (Fe) and Galena, the main component in producing lead (Pb) concentrate and zinc (Zn) concentrate.
Founded in 2005 and listed on the Indonesia Stock Exchange since October 2017, The Company is currently focused on processing Galena (PbS) into Lead (Pb) and Zinc (Zn) concentrates with the best knowledge, experience, and processing technology to obtain maximum results or levels.
Moreover, to increase the added value, the Company is also completing a smelter refinery for lead (Pb) project and the construction of a Zinc (Zn) smelter located in Pangkalan Bun, Central Kalimantan. The licensed mining area is for 5,569 hectares whereas the potential for Galena deposits (PbS) that can be mined is still at a substantial amount.
In order to achieve the Company's success, ZINC pursues three important focuses, namely efficiency to operational costs, increasing its reserves and raw mineral materials, and to utilize resources effectively and efficiently. At the same time, ZINC is also committed to environmental preservation, while always supporting the communities surrounding the Company's mining areas.