INOV Optimistic of 20% Sales Increase in 2022
By : Nata Kesuma | Saturday, January 08 2022 - 13:15 IWST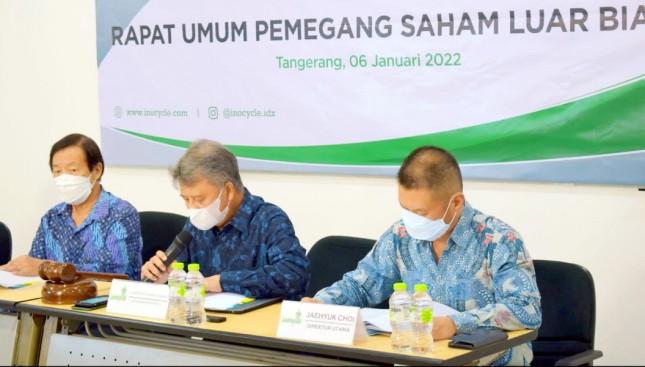 PT Inocycle Technology Group Tbk ("INOV")
INDUSTRY.co.id - Jakarta, PT Inocycle Technology Group Tbk ("INOV"), a listed company in the business of recycling plastic (PET) bottle waste into Recycled Polyester Staple Fiber (Re-PSF), is optimistic its 2022 performance will be better than the previous year.
In line with this, INOV has set a sales target to grow by around 20% in 2022. This target is in line with the increasing volume of demand for the Company's products until the end of 2021, as well as the improvement in the recycling industry driven by the increasing trend of using recycled products by the public.
Victor Choi, as Director of INOV revealed, "We see that this year the industry opportunity and the recycling market potential have improved compared to previous years. Where public awareness in using recycled products has begun to increase in line with the circular economy movement that continues to be encouraged by the Government. Seeing this opportunity, we are targeting to achieve a sales increase of around 20% and a net income of around 25% in 2022."
At the beginning of 2021 INOV established a sales growth target of 15% for consolidation in 2021. Taking into account INOV's performance realization by the third quarter of 2021, the Company is optimistic that it can exceed the 2021 target. By September 2021, INOV has managed to record sales growth of up to 22.8% year on year (YoY) or recorded at IDR464.6 billion. Meanwhile, in terms of net income, INOV succeeded in converting losses into profits in the third quarter of 2021, which was recorded at IDR25.7 billion, an increase of 253.6%.
On the other hand, in line with the acceleration and development of the Company's business, through the Extraordinary General Meeting of Shareholders (EGMS) which was held today, changes have been made to the composition of INOV's Board of Directors.
The shareholders approved the appointment of Mr. Kwang Shin Kim as the new Director of INOV replacing Mr. Yoon Chong Hyun. With various experiences under his belt, the Company believes that Mr. Kwang Shin Kim can further move good business growth forward for INOV in the future.
Victor said, "It is hoped that the presence of Mr. Kim as the new INOV Director can accelerate INOV's business development going forward. We believe that his experience and dedication can have a positive impact on INOV's performance in the future," he said.
For information, until the end of December 2021 INOV has managed to collect around 24 thousand tonnes of plastic bottle waste for recycling. All sources of INOV's raw materials came from local waste, which is obtained from both collectors and manufacturers who have collaborated with the Company. This is in line with INOV's commitment to support the implementation of a circular economy and a waste-free Indonesia in 2025.