Persada Medika Utama Joins with Bakti Energi Abadi and GC Labs to Develop Granostic Center
By : Abraham Sihombing | Wednesday, July 06 2022 - 22:23 IWST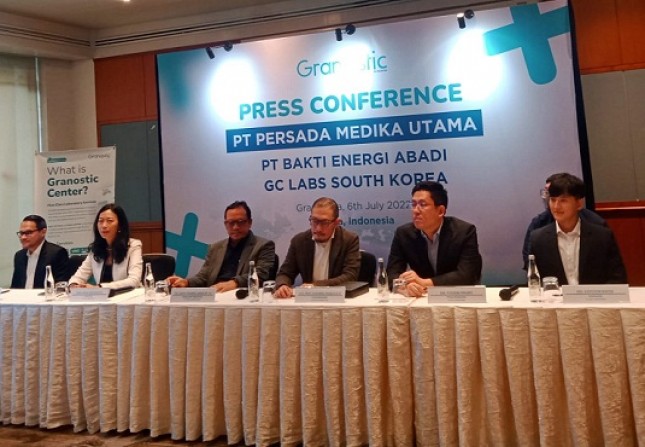 Persada Medika Utama joins with Bakti Energi Abadi and GC Labs to develop Granostic Center. (Photo: Bang Abe)
INDUSTRY.co.id - Jakarta - PT Persada Medika Utama, as known Granostic Diagnostic Centre, is a clinical laboratory that was establish in Surabaya since 2007. Since its establishment, Granostic Diagnostic Centre has fulfilled the people's needs of comprehensive, accurate and fast laboratory examination services.
Granostic Diagnostic Center is also one of the private microbiology laboratories pioneers in Surabaya and has become one of the reference centers for microbiological examinations and bacterial cultures for hospitals and other laboratories.
Granostic Diagnostic Centre has become the only private laboratory outside the hospital that has opened a 24-hour access service for 7 full days. Access to this 24-hour service has received great interest from the community in addition to the ease of access to services via Home Service for patients in need.
Since March 2021, PT Kortex Global Sejahtera (Kortex) has become one of the PT Persada Medika Utama shareholders. Kortex's move have a positive impact with the birth of a new business line, namely Granostic Medical Center.
Kortex has been widely known for its superior products in the form of comprehensive neuro-surgery and brain-surgery services since 2009 (Kortex Comprehensive Brain Spine). Granostic Medical Center will be developed by providing a combination of specialist services with the latest medical technology for various needs such as pain clinic, brain & spine clinic and other disease complaints that are widely experienced by the community.
With the spirit to expand the scope of health services for the community, PT Persada Medika Utama collaborates with PT Bakti Energi Abadi (PT BEnA) to strengthen its shareholders through the signing of a Conditional Share Participation Agreement (CSSA) on Wednesday (06/07/2022).
BEnA's excellence in terms of access to cutting-edge technology and health products will provide additional strength for the Granostic Centre future development.
Not stopping innovating, today Granostic Diagnostic Center also signs a Laboratory Service Agreement (LSA) to cooperate with the South Korea GC Labs. GC Labs is a leading clinical laboratory in South Korea that has an international reputation.
Through this collaboration, Granostic Diagnostic Center will expand the scope of existing laboratory examinations with international quality and reputation.***