Pupuk Indonesia Wins Two Awards in IDEAS 2022
By : Nata Kesuma | Tuesday, August 09 2022 - 16:10 IWST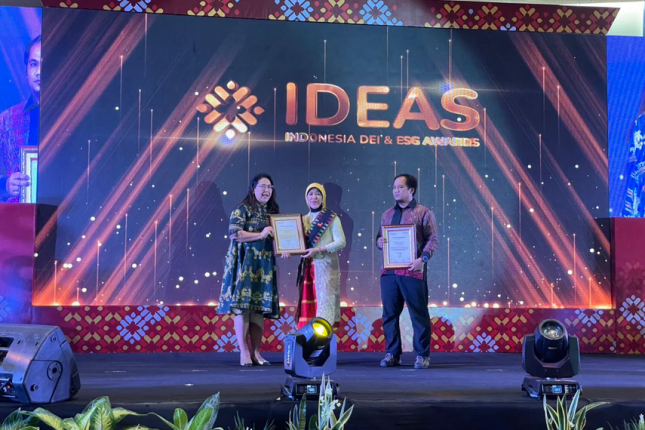 PT Pupuk Indonesia (Persero) won two awards at the same time at the 2022 IDEAS (Indonesia DEI & ESG Awards) event held in Labuan Bajo, NTT, Friday (5/8/2022).
INDUSTRY co.id - JAKARTA – PT Pupuk Indonesia (Persero) won two awards at the same time at the 2022 IDEAS (Indonesia DEI & ESG Awards) event held in Labuan Bajo, NTT, Friday (5/8/2022). The two awards are the Diversity, Equity & Inclusion (DEI) category of non-Tbk BUMN (Silver), and the Most Popular Category in the Online Media of non-Tbk BUMN.
SVP of Corporate Communications for Pupuk Indonesia, Wijaya Laksana, stated that the IDEAS 2022 event was attended by hundreds of agencies ranging from ministries/agencies (K/L) both central and regional, state-owned companies in this case BUMN and BUMD. This event was organized by Public Relations Indonesia.
"We got the DEI Category award for the implementation of the Srikandi Pupuk Indonesia campaign program, while the Most Popular in Online Media was due to the company's publication performance in the last year," explained Wijaya.
Wijaya further stated that IDEAS is a form of appreciation for the performance of Public Relations (PR) personnel who have communicated the best practices of diversity, equity, inclusion (DEI) and environmental, social, governance (ESG) in their organization. These practices are global issues that become the main stream for the existence of organizations/corporations in a sustainable manner.
Meanwhile, the Founder & CEO of Public Relations Indonesia, Asmono Wikan, said that at this time the company through PR is very important to communicate issues related to DEI and ESG.
&ldquo The issue of social inclusion, for example. At this time it deserves very serious attention for organizations / corporations. Especially from the leaders, so that the communication strategy implemented is more relevant, empathetic, and impactful," he said.
He also stated that public relations practitioners must be able to provide certainty for the sustainability of the program in the future. So that there is a common thread between the goals of an organization and the communication to be achieved. Thus, the benefits of the DEI and ESG programs that are carried out are not only felt by the organization, but also in various aspects ranging from social, cultural, to economic.
This competition is divided into two categories DEI and ESG. As well as, special categories of Regional Government. There were 77 entries from 39 organizations from various cross-institutions/corporations that competed in the event.
Specifically for the Most Popular Leader Category in Online Media 2021, Public Relations Indonesia collaborates with Kazee Digital Indonesia which monitors news reports on hundreds of central and regional ministries, state-owned enterprises and regional-owned enterprises in 6,061 local on-line media, 2,320 on-line media.
National line, and 2,407 international on-line media. Monitoring is carried out from January 1 to December 31, 2021. In addition to using quantitative methods in real-time, the assessment is carried out qualitatively.