ALDO Aims to Almost Double Revenue in 2023
By : Nata Kesuma | Wednesday, October 12 2022 - 18:17 IWST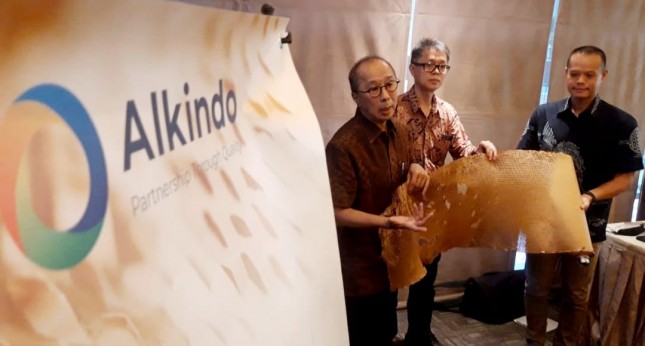 PT Alkindo Naratama Tbk ("ALDO")
INDUSTRY.co.id - Jakarta, 10 October 2022 – PT Alkindo Naratama Tbk ("ALDO"), a listed company engaged in the integrated paper and chemical business, is targeting an almost doubled revenue increase in 2023 compared to the previous year. ALDO targets revenue of IDR 3 trillion in 2023, increase 76% from this year's target of IDR 1.7 trillion.
The target increase was triggered by the addition of a brown paper recycling machine at ALDO's subsidiary, PT Eco Paper Indonesia. The company is developing a second machine with a capacity of 500 tons per day. Currently, Eco Paper has one production machine with a capacity of 250 tons per day for recycled brown paper products.
"We expect the new machine will operate by the end of this year. With the addition of new machine, recycled brown paper production will increase to 220 thousand tons per year from the current production capacity of around 80 thousand tons per year," President Director ALDO, Herwanto Sutanto said.
Beside from increasing production capacity, the Company is also optimistic that the performance improvement will be supported by the market potential for recycled products. After the pandemic, the biggest demand for recycled paper products came from the Fast- Moving Consumer Good (FMGC) and e-commerce sectors.
ALDO innovates to serve this market, one of which is by producing hexa wrap, brown paper in the shape of a honeycomb structure and can replace plastic bubbles. Other products are paperboxes and paperbags, packaging made of paper that can be used as containers for food, medicine, cosmetics, and others.
The prospect of the paper packaging market is still very promising. This is supported by the increasing trend of online sales from year to year. The Coordinating Ministry for Economic Affairs recorded the value of e-commerce transactions in Indonesia, reaching IDR 108.54 trillion during the first quarter of 2022. The realization grew by 23% compared to the same period last year.
"This online shopping trend has become a lifestyle. But there is a problem left behind, the use of plastic. We provide solutions with environmentally friendly products from recycled materials," Herwanto Sutanto said.
In Semester I-2022, ALDO achieved a net profit of IDR 39.31 billion, increase 31% from IDR 30.05 billion in the same period of previous year. In that period, ALDO's net sales were recorded at IDR 767.22 billion, an increase of 15% from IDR 669.85 in the same period in 2021.