New Leadership and Talent Development Programmes Unveiled for Companies Grappling with Post-Pandemic Work Realities
By : M. Shaqeel | Thursday, March 30 2023 - 15:45 IWST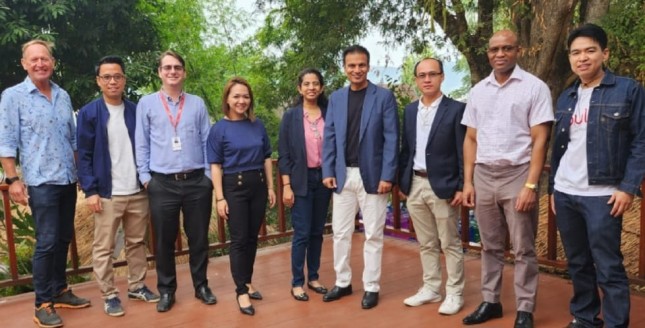 Bruce Hancock, CEO of Bangkok-based Naruna, (Left)
INDUSTRY.co.id - Naruna Retreats, an Asia-based leadership consultancy, has transformed its development programmes to help companies address post-pandemic business realities and take advantage of new opportunities.
The company has announced new leadership training programmes to directly address corporate trends such as working remotely, digital transformation, diversity, equity and inclusion, sustainability, social responsibility, health and wellness.
Bruce Hancock, CEO of Naruna, says that modern businesses and organisations have to deal with environmental, social and governance goals, diversity, equity and inclusion targets, digital disruption, supply chain challenges and an increasingly difficult talent acquisition market. Therefore creating and retaining skilled and motivated leaders is vital for organisational growth and success.
"In our post-pandemic work environment, it is so vital for companies to empower their leadership and talent development structures to deliver measurable, bottom-line results. Companies can do this by enabling individuals to unlock potential and achieve goals." Hancock says that research shows there is a clear correlation between personal and professional growth.
He cites the latest research, by Harvard Business Review, which identifies seven approaches to make leadership development programmes work well in a post-pandemic business environment: provide opportunities for self reflection and the creation of meaning, offer targeted programmes for leaders under stress, utilise 'short sharp' incentive programmes that may only last a day or two, address psychological barriers to growth in individuals, ensure that short-term growth morphs into longer term sustained growth, focus on a whole person approach, and embrace online learning.
Over the years Hancock has held programmes across Asia Pacific for businesses and organisations such as Prudential, Nestle, DTAC, Beiersdorf, Philip Morris, Bacardi, Sirota, and members of the Islamic Development Bank Group.
That accumulated know-how and hard lessons from the pandemic years now underpin the latest 2023 programmes that Naruna Retreats consultancy has made available via its new website Naruna-Retreats.com.
New for 2023, Naruna is offering high impact, in person one-day programmes for maximum growth. The programmes are called "Team Mastery", "The Leader Within", and "The Power of Change".
Naruna is also offering retreats to nature locations in Thailand and other international destinations for groups where Hancock will tailor-make leadership development programmes to meet specific needs.
The latest personality profiling tools are also used by Naruna for individual executive coaching and team workshop design. These techniques uncover strengths, weaknesses, opportunities, and driving motivations.
"Successful companies go beyond the surface level of leadership development and talent management by bringing out the best from their leaders," says Hancock. "It pays real dividends for both the individual and the company or organisation."
Hancock adds: "Our aim is simple. We want individuals and organisations to unlock their full potential. Leadership and team development is not just a title or a position. It's a mindset and a way of life."
About Naruna Retreats
Naruna Retreats works with companies that are genuinely committed to unleashing the full potential of their people, helping individuals cultivate a deeper sense of self-awareness, purpose, and skills to thrive in any professional setting. Naruna's new website is a gateway to self-discovery and growth. It showcases inspiring retreat locations, carefully crafted workshop designs and customised experiences created for specific individual's and company needs. Visit naruna-retreats.com.