SKB Food Collaboration with Bank Mandiri Facilitates Access to MSME Capital Strengthening
By : Abraham Sihombing | Wednesday, April 12 2023 - 22:21 IWST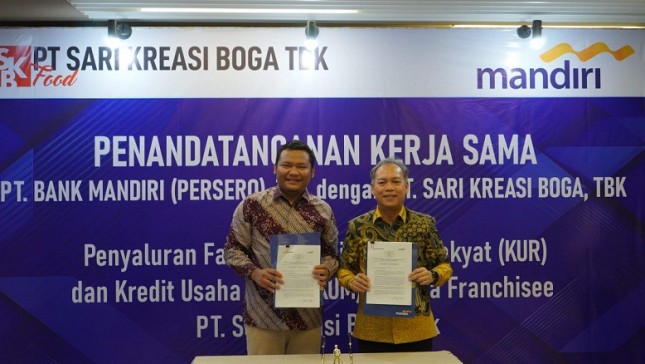 The President Director of SKB Food, Eko Pujianto (left) during the signing of a collaboration with Bank Mandiri at Wisma Mandiri II, Jakarta, on Tuesday (April 11, 2023).
INDUSTRY.co.id -Jakarta - PT Sari Kreasi Boga Tbk (SKB Food) collaborates with PT Bank Mandiri Tbk (BMRI) in order to expand the benefits of financial services to Micro, Small and Medium Enterprises (MSMEs), especially through the distribution of the People's Business Credit (KUR) to strengthen the capital aspect.
The collaboration between SKB Food and Bank Mandiri for MSMEs was marked by the signing of a Cooperation Agreement for Micro Business Credit (KUM) and People's Business Credit (KUR) at Wisma Mandiri II, Jakarta, on Tuesday (11/04/2023).
The CEO of SKB Food, Eko Pujianto, said, the presence of financial facilities through collaboration with Bank Mandiri is a positive opportunity for MSME players, especially those who are business partners of SKB Food.
"This is a good tool for our business partners, the availability of easy and cheap access to capital to develop their business," he said, Wednesday (12/04/2023).
Eko (27), who is the youngest CEO of the company, clarified that the funds provided through this collaboration are in the form of funds for working capital and investment needs channeled to individual MSME players or individual, business entities and/or business groups that have productive and feasible businesses but do not have additional collateral or feasible but not yet bankable.
"We're very enthusiastic about this collaboration because it aims to develop the MSME business even better. This is in line with what the Company aspires to do through its Kebab Turki Babarafi franchise business line," Eko explained.
The Bank Mandiri Region 4/Jakarta 2 CEO, Jan Winston Tambunan, mentioned, the collaboration with SKB Food is a strategic step to reach out and provide wider benefits for KUM and KUR services for MSMEs.
"We consider it important to collaborate with SKB Food as the owner of one of the legendary food brands, Babarafi Turkish Kebab, in order to distribute productive loans to MSMEs," he explained.
SKB Food's business track record, especially in the development of the Babarafi Turkish Kebab franchise, according to Jan, has proven the Company's ability to foster and grow MSME businesses. Especially in the culinary field.
"Because of its experience in fostering MSMEs, for us, this collaboration with SKB Food will help in order to encourage this credit distribution to be more targeted," he continued.
The Marketing & PR Director of SKB Food, Nur Arief Budiyanto, added, the presence of financial facilities from Bank Mandiri in the form of KUR and KUM will be very beneficial for MSMEs.
"Especially in the SKB Food environment, this facility has been awaited by our partners who own the Babarafi Turkey Kebab franchise, Smokey Kebab, Kebab Kitchen By Babarafi, and other brands, to add their outlets," explained a man who is intimately called as Arbud.
Moreover, he continued, the payment system at SKB Food already uses an online system, making it easier for the verification process when providing this financial facility by Bank Mandiri.
"We hope that MSME partners can maximize the presence of this facility because it's a convenience for developing business," he added.(*)