BBW Jakarta 2023 Ready to Meet Readers at ICE BSD City Hall
By : Abraham Sihombing | Saturday, May 20 2023 - 06:15 IWST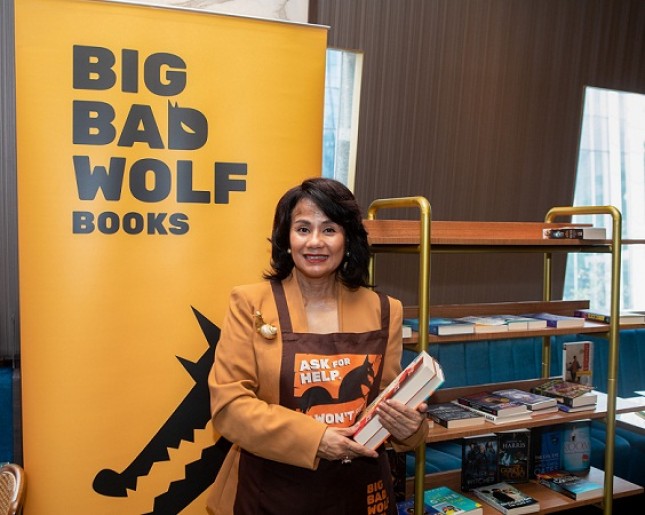 The President Director of Big Bad Wolf Indonesia, Uli Silalahi.
INDUSTRY.co.id - Jakarta - The International Book Bazaar "Big Bad Wolf Books" (BBW) is ready to greet book lovers in Jakarta by presenting the excitement of a new and exciting literacy adventure with a collection of cool books.
With the theme #BACAITUKEREN, BBW Jakarta 2023 is ready to meet readers on May 26 - June 5, 2023 at 09.00-24.00 WIB in ICE BSD City Hall 3-3A and free admission to the bazaar. The largest book party bazaar will present the latest literacy adventure experiences from previous years that inspire.
Uli Silalahi, the President Director of Big Bad Wolf Indonesia, said, "BBW Jakarta 2023 comes with the spirit of reading as a fun lifestyle. It's time to make reading books an integral part of our contemporary lives and a quality time with family. "#BACAITUKEREN will inspire a reading lifestyle to gain information, insight, knowledge and cool entertainment. BBW is a book lover's paradise where the charm of writing and stunning images are ready to be part of the journey of the fun of your days and your family," she added.
There will also be prize surprises through the excitement of daily contests with prizes totaling more than Rp 7,500,000 and a grand prize of 1 trolley full of books. Daily book promotions and flash sales are on offer, and book vouchers are available for purchase at Customer Service in denominations of Rp 50,000 and Rp 100,000.
A dream book collection of millions of selected books at prices rarely found elsewhere. In addition to the offline bazaar at ICE BSD City, BBW Jakarta 2023 will also be available online at Tokopedia and Blibli on May 26-June 5, 2023. Meanwhile, Dody Santosa Iswan, Senior Vice President of PT Bank Central Asia Tbk (BCA), said that BCA is proud to participate in BBW 2023 again.
This activity has a positive spirit to support the reading literacy of the Indonesian people. The event, which is held offline and online, also encourages BCA to facilitate modern payments for all visitors.
"BCA in this event presents cashless payments to provide ease and convenience of transactions, and of course with a variety of attractive promos for book lovers in Indonesia," said Dody.
With the theme #BACAITUKEREN, this international book party presents cool books, cool promotions and cool collaborations that are different this year compared to previous years. This year, BBW will tour 6 cities, including Jakarta, Bandung, Surabaya, Yogyakarta, Balikpapan, and the 6th city will be a surprise additional tour stop. BBW Jakarta brings an amazing book shopping experience.
Prize surprises and collaborations make it even cooler. This year BBW Jakarta collaborates with NOKHA LLC, an international Indonesian company engaged in the design, development and marketing of footwear, apparel and accessories.
BBW will also distribute free book access for a contemporary lifestyle through a Corporate Social Responsibility (CSR) program called Red Readerhood (RRH). This program invites visitors to participate in donating books provided at the RRH corner. The distribution of RRH CSR will be directed to libraries in remote areas of the country.