Receiving a Visit from the European Union Ambassador, Coordinating Minister Airlangga finalizes preparations for the Joint Mission of Indonesia and Malaysia to the European Union
By : Nata Kesuma | Thursday, May 25 2023 - 06:30 IWST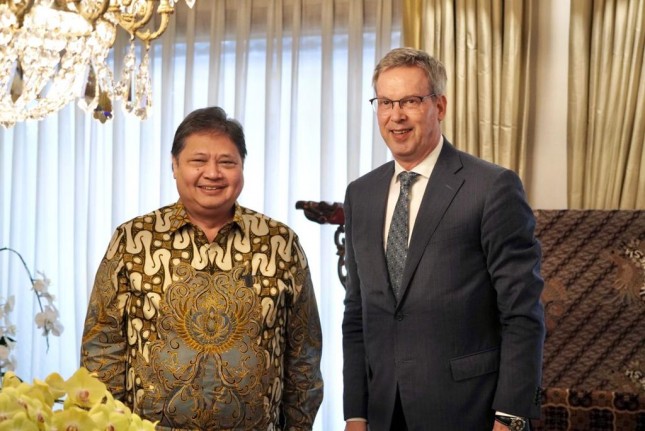 Source www.ekon.go.id
INDUSTRY.co.id - Jakarta,- Coordinating Minister for Economic Affairs Airlangga Hartarto together with Deputy Prime Minister/Minister for Plantations and Commodities Malaysia, HE Dato' Sri Haji Fadillah Bin Haji Yusof are planned to attend a series of Joint Mission activities to the European Union (EU) in Brussels, Belgium on 30 – 31 May 2023.
Prior to departure, the Coordinating Minister for Airlangga as Chair of the Indonesian Delegation had the opportunity to have a meeting with the European Union Ambassador to Indonesia and Brunei Darussalam, HE Mr. Vincent Piket on Wednesday (24/05), to discuss various program preparations and activities that will be carried out by the Government of Indonesia and Malaysia while in Brussels, Belgium.
The Joint Mission activity is a follow-up to the bilateral meeting of the two ministers in February 2023 and aims to voice the concerns of the two countries to a number of Commission officials and European Parliament legislators regarding the European Union Deforestation Regulation (EUDR) regulatory policy which is considered discriminatory and will have a negative impact on access market a number of commodities, especially palm oil to the European Union.
The mission will also identify and discuss steps that can be taken so that these provisions will not burden and have a negative impact, especially on smallholders of oil palm and other commodities that have an impact on the EUDR provisions.
"We want to emphasize that the EUDR is burdensome for small farmers, because they must comply with administrative procedures as required in the provisions of the regulation," said the Coordinating Minister for Airlangga.
Furthermore, the Coordinating Minister for Airlangga said that this regulation could exclude the important role of small farmers in the global supply chain and fail to recognize their significance and rights.
This opportunity was also used to discuss the state of play of the Indonesia-European Union Comprehensive Economic Partnership Agreement (IEU-CEPA) negotiations as discussed by President Joko Widodo and the President of the European Commission, Ursula von der Leyen during a bilateral meeting on the sidelines of the Summit. (Summit) G7 in Hiroshima on May 21 2023 so that it can be completed immediately with a target of the end of this year or early 2024 at the latest. At the meeting, the two agreed and committed to continue to accelerate the completion of negotiations according to the targets set by the two Leaders in question .
Also present at the occasion included the Assistant Deputy for European, African and Middle Eastern Economic Cooperation and the Assistant Deputy for Plantation Agribusiness Development. The European Union Ambassador was accompanied by officials related to the European Union Embassy in Jakarta. (fwh/frn/dep2/dep7/ltg/fsr/hls)