Cabinet Secretary Appoints Kardwiyana Ukar as Expert Staff for Communications
By : M. Shaqeel | Friday, May 26 2023 - 13:45 IWST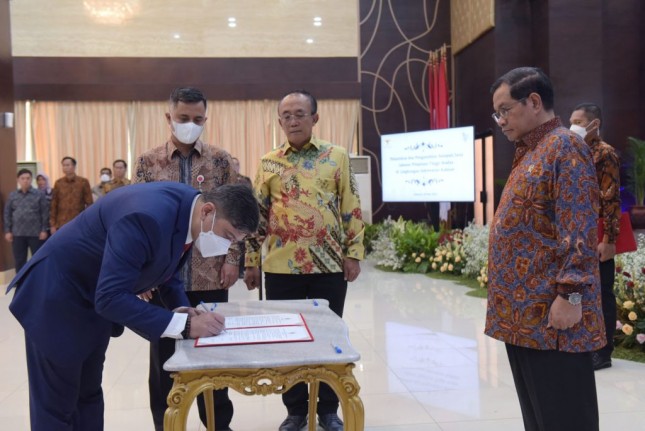 Cabinet Secretariat Pramono Anung appointed Kardwiyana Ukar as Expert Staff for Communications, Cabinet Secretariat, Thursday (25/05/2023), in Jakarta. (Photo: Public Relations of Setkab/Oji)
INDUSTRY.co.id - Cabinet Secretary (Seskab) Pramono Anung appointed Kardwiyana Ukar as Expert Staff for Communications, Cabinet Secretariat (Setkab), Thursday (25/05/2023) morning.
The inauguration was held at the Multipurpose Hall Building III, Ministry of State Secretariat, Jakarta.
This appointment was based on the Decree of the President of the Republic of Indonesia (Keppres) Number 69/TPA of 2023 concerning the Appointment of Middle High Leaders in the Cabinet Secretariat Environment. The Presidential Decree was stipulated by Indonesian President Joko Widodo (Jokowi) in Jakarta on 15 May 2023.
Ukar, who previously served as Assistant Deputy for Domestic Administration, replaced his predecessor Dyah Pancaningrum who had previously been appointed Deputy for Maritime Affairs and Investment, Setkab.
In his direction, Cabinet Secretary Pramono Anung emphasized that Ukar could make the maximum contribution to the Cabinet Secretariat.
"Obviously all positions have consequences. Hopefully you will carry out your duties as well as possible and also be able to make a good contribution to this organization, to the Cabinet Secretariat," said the Cabinet Secretary.
The Cabinet Secretariat also stressed the important role of the Cabinet Secretariat in supporting the president and vice president in running the government.
"Helping the performance of the president and vice president is in accordance with your duties assigned to you," he told Ukar.
On this occasion, the Cabinet Secretary also advised all Cabinet Secretariat staff to continue working professionally and maintain neutrality in the current political year.
"Outside, there may be differences of opinion, commotion, whether you want to be a candidate for president, cawapres, which party wants to win, but we just concentrate, once again, on providing the best service for the president and vice president, because that is indeed our main task. he insisted.
Also present at the inauguration were, among others, Deputy Cabinet Secretary, Fadlansyah Lubis; Deputy for the Economy, Satya Bhakti Parikesit; Deputy for Human Development and Culture, Yuli Harsono; Deputy for Cabinet Work Support, Thanon Aria Dewangga; Deputy for Administration, Farid Utomo; Deputy for Maritime Affairs and Investment, Dyah Pancaningrum; Expert Staff for Bureaucratic Reform, Ratih Mayangsari; Expert Staff for the Economy and People's Welfare, M. Amperawan; Expert Staff for Politics and Law, Dyah Kusumastuti; Cabinet Secretary Special Staff, Emir Kresna Wardhana; as well as Cabinet Secretary Special Staff, Syafruddin. (TGH/UN)