Growing Above Industrial Average, CLEO Strives for Innovation
By : Nata Kesuma | Saturday, September 23 2023 - 11:33 IWST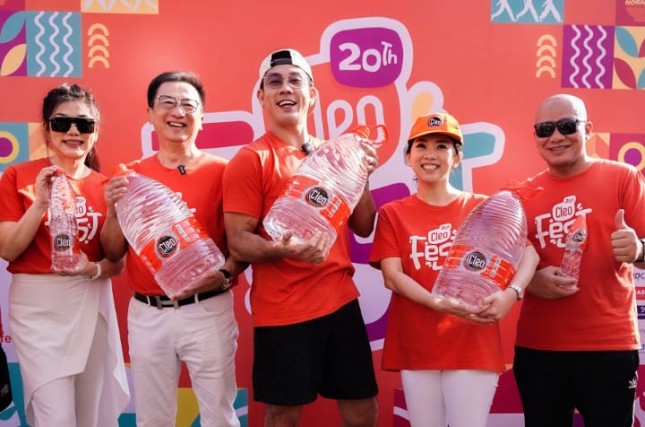 "CLEO", PT Sariguna Primatirta Tbk (Tanobel Group)
INDUSTRY.co.id - Jakarta, September 22st, 2023 – Producer of bottled drinking water with the brand "CLEO", PT Sariguna Primatirta Tbk (Tanobel Group) targets its sales in 2023 to grow above the average of the bottled drinking water (AMDK) industry in Indonesia.
Secretary General of the Association of National Packaging Drinking Water Producers (Asparminas) Eko Susilo said that there was an increase in market share for local bottled drinking water (AMDK) products. The latest data released by Asparminas in early 2023, market growth for gallon bottled drinking water in 2022 will reach 4%, while large players dominated by foreign investment tend to stagnate.
To achieve the sales growth target that is above the industry average, CLEO is actively carrying out various activities to capture opportunities from the increasing demand for the bottled drinking water. One of them is by launching the latest product variants to further deepen market penetration.
In conjunction with the Company's 20th anniversary celebration, CLEO has introduced an innovative new gallon variant called Cleo Nusantara.
The new Cleo Nusantara gallon variant comes in a 12.8 liters packaging which is light, to be easy to carry everywhere, with one-time use model, hygienic and BPA free. It is expected that this new product will make it easier for people to consume pure water for various needs. In its commitment to protect the environment, CLEO maintains the use of 100% recyclable materials in its products to be environmentally friendly.
"One of the CLEO's keys success in running this business is because we continue to innovate by create new products based on the market needs, build factories, distributor networks, and increase the automation and efficiency of each factory. It is hoped that the new gallon product Cleo Nusantara will make it easier for people to consume pure water at home, when traveling, and during activities outside such as camping and the like," said Melisa Patricia, CEO of CLEO.
Furthermore, in line with the growing trend in market demand for bottled drinking water, in the last five years CLEO has opened 7 new factories which are already operating. The Company consistently continues to increase the capacity of existing factories, as well as adding thousands of outlets and distributors so that CLEO products are increasingly spread. The Company estimates that 32 factories will be operational by the end of 2023.
Apart from that, CLEO is also active in holding promotions through various events, including being the sole drinking water sponsor at several concert events in Indonesia.
These various marketing and sales efforts have been met with enthusiasm from the public in carrying out various outdoor activities after the pandemic, which has resulted in an increase in CLEO sales. In 1H23, CLEO managed to record skyrocketing growth exceeding the industry average with a sales increase of 14.9% YoY reaching IDR 752.3 billion. The performance in the 2Q23 exceeded the 1Q23's, recording a 14.6% QoQ jump to IDR 401.8 billion. On the other hand, CLEO has also successful recorded a 23.2% YoY increase in net profit, amounting to to IDR 126.1 billion with a net profit margin at the highest level of 16.8% in the 1H23.