President Jokowi Checks Food Commodity Prices at Citeko Market
By : Nata Kesuma | Friday, November 10 2023 - 09:31 IWST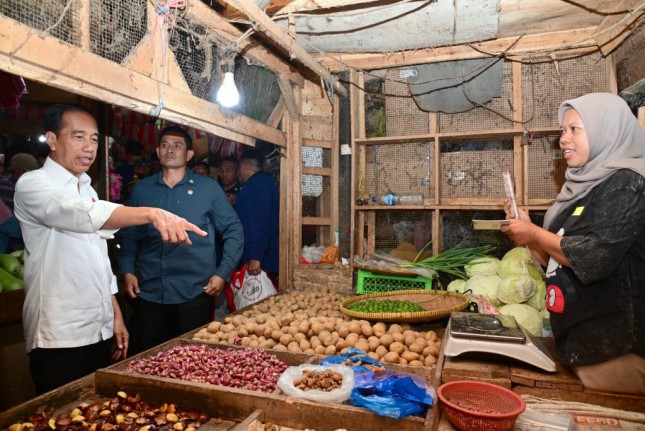 President Jokowi reviews food prices at Citeko Market, Purwakarta Regency, West Java, Thursday (09/11/2023). (Photo: BPMI Setpres/Muchlis Jr)
INDUSTRY co.id - Indonesian President Joko Widodo (Jokowi) reviewed food prices at Citeko Market, Purwakarta Regency, West Java Province, on Thursday (09/11/2023).
According to the President, the prices of a number of food commodities such as chilies have experienced high increases on the market.
However the Head of State said that prices of other commodities were currently still in a stable condition. "It's the chilies that rise high, but this is always the case, chilies are seasonal. "If it was the season like this, chilies would have already reached 100 thousand (rupiah), but other things I saw were onions, garlic and eggs, all of which were in stable condition," said the President to media crew in Purwakarta.
Meanwhile, for staple foods such as rice, the President said that the government continues to strive to maintain price stability in the market. Until now, President Jokowi said that rice prices were still quite stable.
"Indeed, until now it has not been able to decrease drastically, but at least it has not increased," he said.
On this occasion, the President also emphasized the government's efforts to reduce rice prices by providing rice food assistance to beneficiaries. Apart from that, the government also continues to carry out market operations and maximize distribution of rice through the food supply and price stabilization program (SPHP) to ensure food needs are met.
"This is what we are doing, there are market operations, then there is SPHP rice, which is also 10 kg rice food aid for 21.3 million people. "Actually, it has been operated from all angles, but indeed the international prices have all gone up," he continued.
Apart from reviewing food prices, during his visit to Citeko Market, the President also handed over social assistance to market and street vendors.
Also accompanying the President on his visit to the market were Acting Governor of West Java Bey Machmudin and Acting Regent of Purwakarta Benni Irwan. (BPMI SETPRES/AIT)