Until 2017, Geological Agency of the Ministry of Energy and Mineral Resources Builds 1,782 Drilling Wells in 312 Regencies
By : Hariyanto And Aldo Bella Putra | Wednesday, March 21 2018 - 19:00 IWST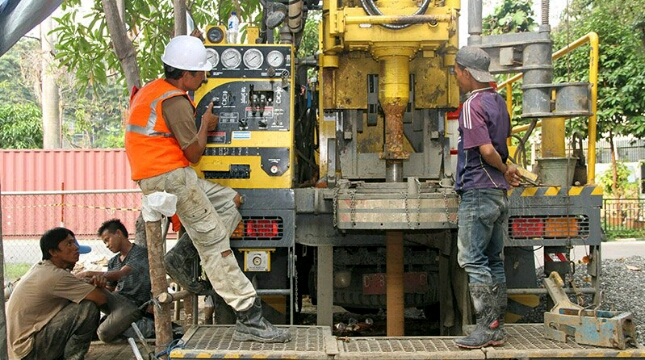 Pembangunan sumur bor
INDUSTRY.co.id - Bandung - In order to help people get clean water in difficult areas of water, the Geological Agency of the Ministry of ESDM through the Center for Groundwater and Environmental Geology (PATGTL) provides clean water facilities through the construction of drilled wells.
Head of the Geological Agency, Rudy Suhendar said Geological Agency has a program of clean water services in areas difficult to water through groundwater drilling. In the period of 2005-2017, the Geological Agency has provided 1782 wells drilled in 312 districts and cities across Indonesia.
"Overall production capacity of the entire well is about 100 million m3 per year to serve 5 million people," Rudy Suhendar said Monday (19/3/2018) ago.
According to Rudy, in addition to providing clean water facilities, the Geological Agency also issued a Water Conservation Zone Map showing the level of groundwater damage both in quality and quantity, based on Groundwater Basin (CAT) which has been determined by the Minister of Energy and Mineral Resources through Ministerial Regulation No. EMR Number 2 years 2017.
Some CATs, especially those in major cities, have shown significant levels of damage, such as CAT Jakarta, CAT Serang-Tangerang (Tangerang City and surrounding areas) CAT Bandung-Soreang (Bandung City and surrounding areas), and CAT Denpasar-Tabanan and surrounding).
In addition to the increasing level of groundwater damage as the number of groundwater use increases, this condition can also trigger an increase in land subsidence and further intrusion of saltwater to the mainland.
"The instrument for groundwater sustainability in CAT is the presence of a groundwater conservation map, where it will describe which areas are critical and which ones can still be exploited in its water, and that the CAT is not damaged then the CAT's management must be done carefully, intelligently and decisively," firmly Rudy.