In Italy, Coordinating Minister of Marine Affairs Luhut Present Performance of Indonesian Agricultural Sector
By : Ridwan And Aldi Firhand. A | Wednesday, May 16 2018 - 21:46 IWST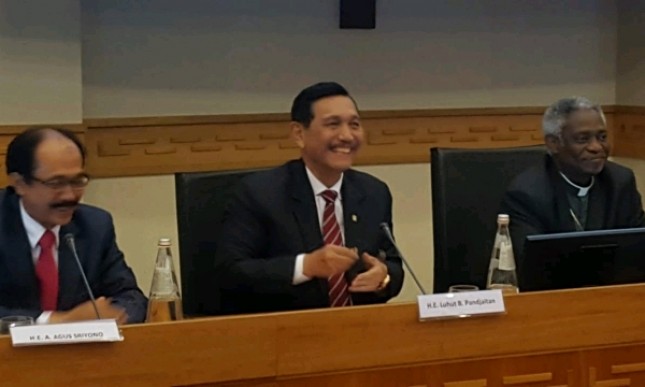 Coordinating Minister for the Ministry of Marine Affairs Luhut Binsar Pandjaitan gave a keynote address in the Seminar on Eradication of Poverty through Agriculture and Plantations for the sake of Peace and Humanity, in Rome, Italy.
INDUSTRY.co.id - Rome, Coordinating Minister for the Ministry of Marine Affairs Luhut Binsar Pandjaitan gave a keynote address at the Seminar on 'Eradication of Poverty Through Agriculture and Plantations for Peace and Humanity', in Rome, Italy (15/05/2018).
Inaugurating his speech, Coordinating Minister Luhut appreciated the cooperation of Indonesia, Malaysia and Dicastery for Promoting Integral Human Development under the leadership of Cardinal Peter Turkson, who has initiated the implementation of this seminar.
Cardinal Turkson said agriculture, including oil palm plantations, could be a business sector to eradicate poverty.
He advised that the balance between economic activity and environmental management must be maintained.
The conference is an important forum for exchanging ideas and dialogue among stakeholders representing governments, NGOs, academics and agricultural entrepreneurs including oil palm and civil society groups.
"We (the Indonesian government-red) there is no intention at all to 'use' the Vatican for opposition to any party," said Coordinating Minister Luhut.
Also present as speakers at this session Malaysian Ambassador to Vatika Tan Sri Bernard Gilunan Dompok, Cardinal Peter Turkson, Pontifical Urban University Rector Alberto Trevisial, James Fry from Oxford, Frans Claassen from Europan Palm Oil Alliance, Prof. Pietri Paganini of John Cabot University, and Thomas Mielke of Oil World.
Coordinating Minister for Marine Affairs Luhut went on to explain about Indonesia's economic growth which has shown good performance.
Over the last decade, the Indonesian economy grew an average of around 5.7%, the third fastest among the G20 after China and India. The Gini Ratio of Indonesia continues to shrink from 0.4 to 0.3 in three years indicating the success of the government's economic policy.
In fact, some institutions predict that in 2030-2050, Indonesia will become the world's fifth largest economy in the G20. "The economic performance is unlikely to happen without a significant contribution from the Indonesian agricultural sector," he said.
According to him, the agricultural sector contributes significantly to the Indonesian economy. The GDP of the agricultural sector averages 4.1 Billion Euro per year in the period 2010 to 2018.
"In 2014, the agricultural sector employs about 40.12 million people, or about 33% of Indonesia's workforce," Luhut said.