ARLI Inspect United States Market for Next Export
By : Ridwan And Aldi Firhand. A | Monday, May 21 2018 - 20:50 IWST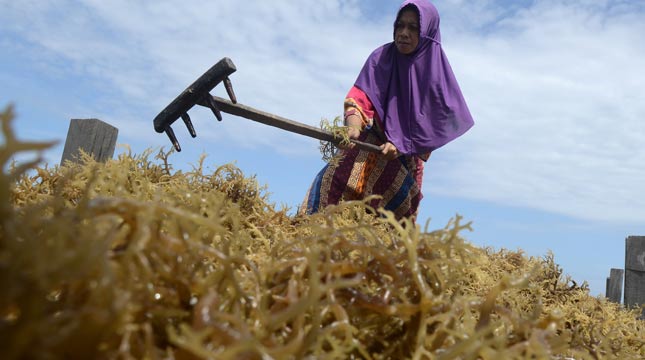 Seaweed Farmer (Photo: BD)
INDUSTRY.co.id - Jakarta, The Indonesian Seaweed Association (ARLI) re-consolidated and monitored the field following the issuance of US Government Decree (US), through the United States Department of Agriculture (USDA) dated April 4, 2018 on re-establishment of Agar and Carrageenan list of organic products in the US. The decree is effective as of May 29, 2018.
"We deeply appreciate the hard work of all parties who have worked with us," said Chairman of ARLI, Safari Azis in Jakarta (20/05/2018).
He said the effort was fully supported by the Embassy of the Republic of Indonesia in Washington DC in cooperation with the Ministry of Trade, the Ministry of Marine Affairs and Fisheries, the China Algae Industry Association (CAIA), the Seaweed Industry of the Philippines, the International Food Additives Council (IFAC) and importers and users processed seaweed in the US.
"We continue to convince the parties in the US that seaweed cultivated by coastal communities and islands is done naturally without using chemical elements or environmentally destructive," he said.
In his trip to the US, his side has also ensured the processed products of Indonesian seaweed can be circulated in the American market. Thus, exporters need not hesitate to export their products.
As it is known, seaweed after being processed to be Jelly for Gracilaria type and becomes Carrageenan for Eucheuma type which is used as one of Ingredients generally in food and beverage product as emulsifier, thickener, chewer and others.
"We have conducted field monitoring, we can find a number of food, beverage and health products that Jelly use and Carrageenan as one of the auxiliary materials," said Safari.
He also said that all parties need to support Indonesian citizens living in the US to open more stores or supermarkets such as Indonesian and Asian Market in order to sell more Indonesian products.
Meanwhile, Indonesian Ambassador to the US Budi Bowoleksono said it would continue to support the positive image of Indonesian agar and carrageenan products. This is due to the Government of Indonesia's efforts to eradicate poverty, especially in coastal areas and islands.
According to him, the economic empowerment of the community through seaweed contributes to the creation of employment, regional economic development and the acquisition of foreign exchange.