APP Sinar Mas Celebrates 60 Years of RI-Japan Relations with Tree Planting
By : Herry Barus And Aldo Bella Putra | Wednesday, September 12 2018 - 18:30 IWST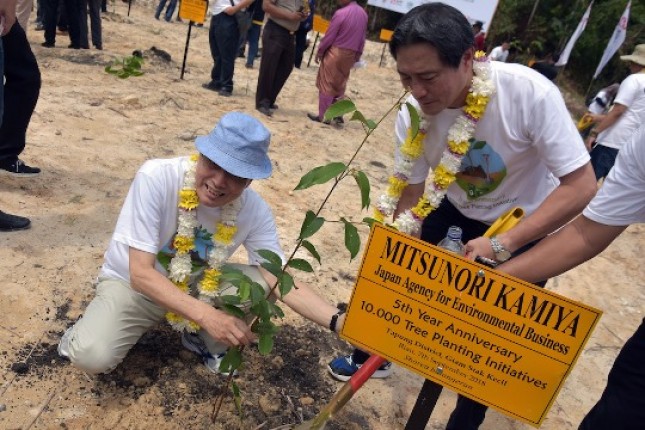 APP Sinar Mas Rayakan 60 Tahun Hubungan RI-Jepang dengan Penanaman Pohon
INDUSTRY.co.id - Riau - Asia Pulp & Paper (APP) Sinar Mas today helped strengthen the partnership between Indonesia and Japan through the planting of red trees along with business representatives from countries, the International Tropical Timer Organization (ITTO), the Japan Agency for Environmental Business, and the Indonesian government in Tapung District, Riau. The activities carried out on this 20-hectare conservation area became part of the 60th anniversary of diplomatic relations between the two countries.
The tree planting initiative conducted by APP Sinar Mas every year is a follow-up to the recommendation of Professor Akira Miyawaki from Yokohama National University, Japan. During his visit to APP Sinar Mas's wood supplier conservation area in 2014, Professor Miyawaki recommended planting endemic plant species to accelerate the recovery of damaged forests. Since then, APP Sinar Mas, together with various partners and stakeholders, has planted more than 32,000 trees on 67 hectares of conservation land through the annual activities.
This year, APP Sinar Mas also commemorates the five years of the Forest Conservation Policy (FCP) which outlines the company's commitment to support environmental protection and restoration in Indonesia.
"Since launching the FCP, APP Sinar Mas has always endeavored to support forest conservation and restoration in Indonesia through partnerships with various parties, such as tree planting activities today," said APP Sinar Mas Elim Sritaba, Sustainability & Stakeholder Engagement Director. "Japanese businesspeople and environmental experts have become loyal partners in APP Sinar Mas's sustainability journey. Therefore, today's activities are our way to commemorate 60 years of relations between Indonesia and Japan. "
Indonesian Embassies for Japan, ITTO, Garuda Indonesia, Garuda Orient Holidays, Belantara Foundation, and Sinar Mas Forestry are among 64 participants in this year's tree planting activities.
Dr. Riva Rovani, Forestry Attache from the Indonesian Embassy in Tokyo, said, "The Sustainable Development Goals (SDGs) compiled at the United Nations are a guide to achieving a better and sustainable future. Therefore, I am pleased to see that today's collaboration contributes to the preservation of our planet's vital natural resources, in line with the goals of the 13th SDGs to tackle climate change and the 15th goal to promote sustainable use of landforms. "
Siak Regent Drs. H. Syamsuar, as in a press release received Wednesday (12/9/20180, said, "Conservation and restoration of Indonesia's tropical rainforests must remain a top priority. Indonesia has made rapid progress in overcoming deforestation trends, especially in peat areas, but homework we haven't finished yet. "
Chairman of Japan Agency for Environmental Business Mitsunori Kamiya added, "Indonesia and Japan have long established special relationships, and we are proud to be able to work side by side to realize a common goal, namely to conserve natural resources. Like the tree we plant. "