Strategic Area of Gayo-Alas Increases Aceh's Economy
By : Herry Barus And Aldi Firhand. A | Monday, September 17 2018 - 21:36 IWST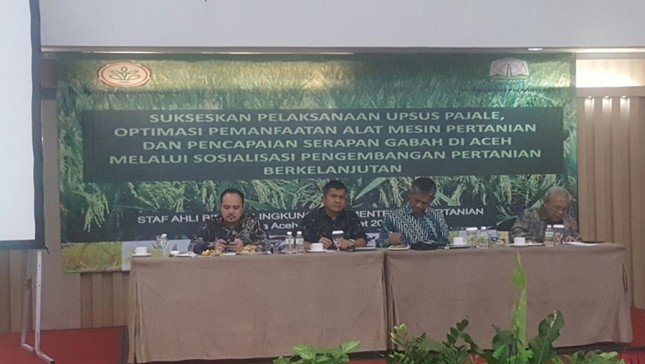 Aceh terus mengupayakan peningkatan pangan. (Dok Industry.co.id)
INDUSTRY.co.id - Takengon- Central Aceh Regent Shabela Abubakar stated that the determination of Gayo Alas as a national strategic area would be able to provide economic benefits and prosperity for the Acehnese people in general.
"Infrastructure development and regional development that will be carried out not only for the highland gayo community and base but also will affect the entire Acehnese people," said Shabela Abubakar at Takengon, a few days ago.
The statement was delivered on the sidelines of opening a coordination meeting to fill the indications of the Aceh RTRW masterplan program that took place in Oproom Setdakab, Central Aceh.
He explained that his party strongly supports adjustments to the Aceh RTRW masterplan which is in line with the Central Government's policy to accelerate the development of the Gayo Alas highlands to become a national strategic area.
"This activity is very strategic, because it requires adjustments to current conditions based on the dynamics of community needs and the potential of natural resources that we have," said Shabela.
More detailed Shabela explained some supporting data and facts to realize the Gayo and Alas highlands into a strategic area including the Central Aceh region which was the capital of the struggle to maintain independence with the existence of the jungle of the jungle and the emergency president syafruddin prawira state when the second Dutch military aggression.
Furthermore, the existence of the louser ecosystem that supports the world's oxygen needs, a natural gift that supports the tourism sector, starting from lakes, rivers and mountains which are all available in gayo and alas.
Then for Gayo arabica coffee, the Gayo highland area (3 districts) has an area of ​​100 thousand hectares of arabica coffee and this amount is calculated as one of the widest areas in Asia and the Gayo Highlands region and Alas are energy sources, with the construction of Peusangan Hydroelectric Power Plant 1 and 2, the next one will follow 1V hydropower.
"All the potential is in Gayo Alas, but all of that has not been fully exploited," said Shabela in an activity attended by Acehnese DPR Member, Tagore Abubakar.
Meanwhile the Assistant Deputy for the Empowerment of Strategic and Special Areas of the Coordinating Ministry for Human Development and Culture, Wijanarko Setiawan to Antara said the activities held were part of the assignment of President Joko Widodo to develop the Gayo Alas area.
"We hope that through this activity can develop the concept of the development of the Gayo Alas region which can later be recommended as a national strategic area. This determination will also be supported by all parties including supporting infrastructure," he said.
He added that with the entry of Gayo Alas as one of the strategic areas, the development of various supporting infrastructures would also continue to be improved with the involvement of relevant ministries to become the region as one of the special destinations in the future