Take Good Care of Agricultural Production, The Performance of the Minister of Agriculture Amran Asked not to be disturbed
By : Wiyanto Dan Aldo Bella Putra | Saturday, September 22 2018 - 20:30 IWST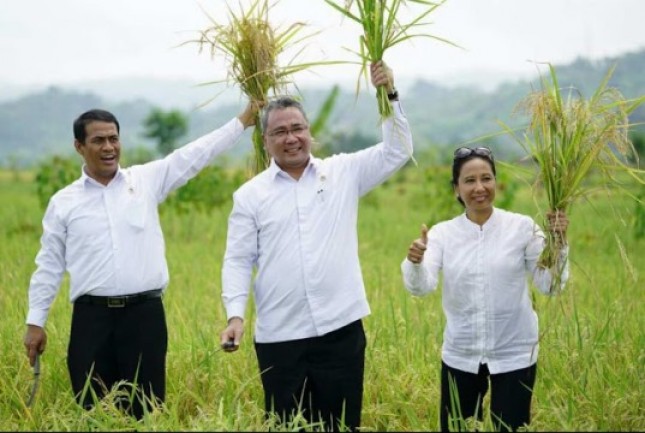 Mentan Andi Amran Sulaiman, Menteri BUUMN Rini Soemarno, Menteri Desa PDT (Foto Humas)
INDUSTRY.co.id - Jakarta - Minister of Agriculture (Minister of Agriculture) Amran Sulaiman is considered to have demonstrated maximum work in maintaining the stock of food availability. Production in the agricultural sector is still considered optimal.
This was stated by member of Commission IV of the House of Representatives Mindo Sianipar, Friday (9/21/2018). According to Mindo, Amran Sulaiman showed that the work was in line with President Joko Widodo's direction through the achievement of production in several good agricultural sub-sectors.
"The agricultural sector is still positive. The production is quite good. It can be a maximum contribution to the country's foreign exchange sources," said Mindo.
Mindo revealed, under the control of Amran Sulaiman, the agricultural sector seemed to be a local investor who contributed huge financial benefits.
"If work maintains the adequacy of agricultural commodities, Amran has worked to maintain it properly. It should be encouraged by other cross-sector agencies to be better," said Mindo.
Regarding the national rice production share, Mindo thought that Amran's work effort should be appreciated. It can be traced through data from the Central Statistics Agency (BPS) which states that it is not the cause of inflation as of July 2018.
"The data shows that the work of the Ministry of Agriculture is quite good. This means that the rice production needs are sufficient at the level of market consumption, which influences prices that are not volatile and the farmers' exchange rate increases as an indicator of welfare," said Mindo.
Meanwhile, DPR Commission IV member Endang Srikarti Handayani said that the issue of rice, Amran Sulaiman and his staff would also have data that could be accounted to the public.
"It will only be explained, is there a synchronization based on BPS calculations. But it should be appreciated that the Minister of Agriculture has shown the achievement of increased production of agricultural commodities, moreover there are already exports," said Endang.
In harmony with his partner in the House of Representatives Commission IV member, Michael Wattimena said, harvesting rice production could be categorized as good. In fact, said Michael, Amran Sulaiman dared to guarantee that the rice harvest remained safe in the dry season.
"It means that the rice stock is quite safe when viewed from the aspect of the harvest. The Minister of Agriculture has data on how much rice harvest. Data published by the Ministry of Agriculture said that the rice planting area will increase, it can be taken into account for the availability of rice," Michael said.
Michel said, so far there has been no unnatural performance from Amran Sulaiman regarding matters of agricultural production. Therefore, it needs support, especially in relation to rice stocks.
Regarding the agricultural sector, BPS noted that there was better growth for the farmer exchange rate of 0.89 percent in August compared to July this year.
While based on Ministry of Agriculture data as of August, the total national rice reserves reached 166,418 tons. Then, as many as 1,230 million tons of rice are still stored in the milling warehouse.
While the amount of rice planted area from the Ministry of Agriculture data from January to June 2018 is 18,334,855 hectares...