Optimistic Minister of Agriculture Indonesia Can Have the Best Training Center in the World
By : Wiyanto Dan Aldo Bella Putra | Saturday, September 22 2018 - 21:00 IWST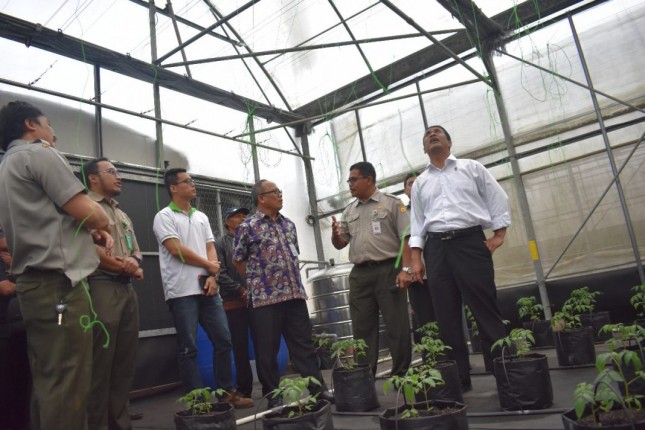 Mentan Amran
INDUSTRY.co.id - Lembang - Agriculture Minister Andi Amran Sulaiman made a working visit to the Lembang Agricultural Training Center (BBPP) on Thursday (9/21). During this visit, Amran called on the employees of BBPP Lembang to continue to innovate to develop training facilities and increase the number of trainees.
Thus BBPP Lembang not only became the best in Indonesia, but also became the best in the world, exclaimed Amran before BBPP Lembang employees.
Furthermore, Amran asked all elements in BBPP to act as agents of change that could bring goodness and benefit the community. For that, he also asked the ranks of BBPP Lembang to continue to develop creativity. We are all agents of change. Therefore, we always think and do good and think _out of the box_ so that creativity continues to flow for the progress of the nation, he said.
During the visit, Amran also participated in reviewing the BBPP Lembang cooperation training facilities and Taiwan Technical Mission in the form of _packing house_ and _screen house_. He also took the time to dialogue with farmers participating in the Vegetable Agribusiness Technical Training with _On-Site Training Model_. At the end of the visit, Amran reviewed _coffee shop_ BBPP Lembang which was used as a means of practicing coffee marketing.
Met after accompanying the Minister of Agriculture on a field visit, the Head of BBPP Lembang Bandel Hartopo revealed that every agricultural training center located in the Ministry of Agriculture must now be able to implement technology into money or services. Like the practical facilities available at BBPP Lembang, they have developed various technologies that can increase crop productivity.
For example, here we have an area of ​​7 x 8.5 meters. When conventional lettuce is grown, it can only be 600 stems. But with hydroponics and verticulture, 2,400 can be planted. This indicates a fourfold increase in productivity. The price also tripled. This means that with technology it can make money 12 times, said Hartopo.
This concept developed at least succeeded in increasing cooperation and external visits to BBPP Lembang. In 2016, there were 2,118 study visits in 2016. That number more than doubled in 2017 to 4,749 people. As of August, there were 3,013 study visits.
In addition to study visits, training cooperation from the central, regional and private governments in 2017 reached 4,666 people, a two-fold increase compared to 2016 of only 2,285 people.
The data above shows that when Balai is able to demonstrate how to get money or services by applying technology effectively and efficiently, it will invite people to come to the Hall with their own resources. With this trend, we can also save the government budget, said Hartopo.