Promote Exchange Traded Fund, Indo Premier Holds ETFest 2021
By : Abraham Sihombing | Sunday, June 13 2021 - 11:33 IWST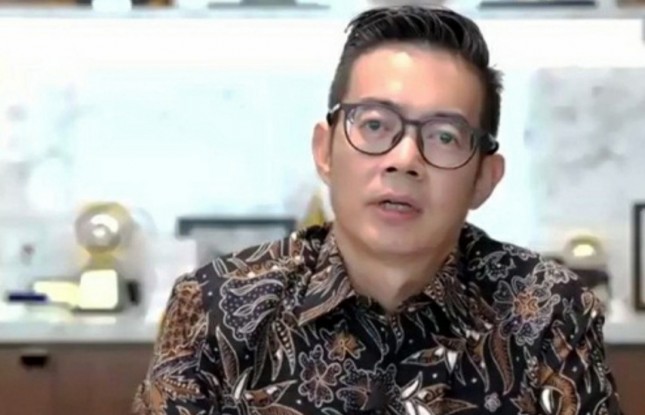 The President Director of PT Indo Premier Sekuritas, Moleonoto
INDUSTRY.co.id - Jakarta - The optimism of Indonesian capital market investors continues to squirm during the Covid-19 pandemic, despite the JCI has been under selling pressure in recent weeks. This optimism is reflected in the increase in the number of new investors. Unfortunately, this increased of investing interest in the capital market has not been matched by a comprehensive understanding of the investment concept and its increasingly diverse alternative products.
The local Indonesian securities, PT Indo Premier Sekuritas, whose slogan #SemuaBisaInvestasi is committed to increase capital market literacy and inclusion through sustainable education to the public regarding the importance of investing in the capital market, including understanding of ETF (Exchange Traded Fund) products.
ETFs have been very popular in the world since early of 1990s, because they are a combination of mutual fund and stock products advantages, such as efficient, transparent, and flexible. This investment instrument is worthy of being an alternative investment for novice investors because they are very liquid and affordable.
"Indo Premier has been a pioneer in the Indonesian ETF industry since 2007. Currently, Indo Premier has administered 26 of the 48 ETFs on the IDX with an AUM of Rp7.6 trillion of the total AUM ETFs in Indonesia of Rp13 trillion based on KSEI data as of May 2021," said President Director of PT Indo Premier Sekuritas, Moleoonto The, in his remarks at the virtual opening of ETFest 2021 on Friday (11/06/2021).
Moleonoto admitted, the public's enthusiasm to the ETF products has increased significantly. This was reflected in the fairly high ETF transactions in April 2021 that experienced a jump by 197% compared to April 2020.
IPOT as an investment and trading platform that facilitates stock, mutual fund and ETF transactions through one application and one customer's fund account is now equipped by the ETF Primary Market feature which will certainly pamper customers in ETF transactions.
"In order promote ETF investment continually in the community, we are holding ETFest 2021 to answer various public questions about ETF products from all sides, starting from the introduction of ETFs by IDX and Indo Premier, steps to choosing the right ETF with several IPOTFund MI partners, international ETF best practice by the Japan Exchange, to sharing sessions with ETF investors and inspiring public figures, wrapped in stand-up comedy entertainment. Hopefully the entire series of ETFest 2021 activities will be useful for all of us because together with IPOT, #SemuaBisaInvestasi," explained Moleonoto.
Meanwhile, President Director of the Indonesia Stock Exchange (IDX), Inarno Djajadi, admitted, that 2021 will be a year full of hopes for economic recovery and an increase in ETF transactions. This is reflected in the high trading activity on the Indonesia Stock Exchange (IDX) in the last three months.
"We recorded high transaction activity and this is a new record since the stock exchange privatization in 1992, including the average daily trading value of more than Rp13 trillion per day, or a double increase in the last five years," said Inarno.
Besides, there is also a surge in transaction frequency which reached an average of 1.2 million transactions per day and it has been the highest in the ASEAN region for the last three years. This is also followed by a surge in trading volume which reaches more than 18 billion shares per day.
"The trade transactions surge throughout 2021 is influenced by the positive trend of capital market investor growth. We see that the rapid use of technology in the new normal has had a positive impact on investor growth in the last year," said Inarno.
In terms of the investor number increase, as of May 2021 the number of investors has reached more than 2.4 million stock investors and 5.37 million Capital Market investors. In other words, there is an increase of 42% for stock investors and 38% for Capital Market Investors compared to in 2020. The average number of active investors in making transaction as of May 2021 reached 203,000 investors per day, or grew by 113% compared to the same period in a year earlier.
Then, if it is viewed of the investor ownership number, the 2020 will be the domestic investors rise year, especially retail investors. Retail investors recorded a large transaction activity, reaching 48.4% of the total average daily transaction value of Rp9.2 trillion. This percentage jumped for the first time higher than 40% in the last 5 years and this is going to continue in 2021 where the retail investor dominance is increasingly visible with the portion reaches almost 60% as of May 2021.
To continue in developing the capital market comprehension and expanding stock exchange product services, IDX together with SROs and OJK continue to develop new products and improve products that are capable to be offered to the investor community.
Up to now, there are various kinds of capital market products that are capable to be used as public investment sources and one of them is products of ETF (Exchange Traded Fund).
"Shortly, ETFs are exchange-traded mutual funds, with one of the main advantages being T+2 settlement, much faster than the subscription/redemption duration of conventional mutual funds," Inarno concluded.
Through a series of initiatives and support of market players and OJK, ETF products have developed rapidly till 2021. Since 2011, the number of ETF products on the IDX has continued to increase and until early June 2021 there had been 47 ETFs on the IDX.
For strengthening services and maintaining the growth momentum of the Indonesian capital market, IDX together with OJK and SROs have launched a series of strategic initiatives in 2020, one of which includes revitalizing trading in the ETF market.
"Hopefully the ETFest 2021 webinar activity for the next 3 days are capable to provide positive insights for all of us and in the future it is capable to contribute in advancing the capital market and the Indonesian economy," Inarno added. (Abraham Sihombing)