SMKL Optimistic About Achieving 26% Sales Increase by End of 2021
By : Nata Kesuma | Saturday, January 01 2022 - 13:22 IWST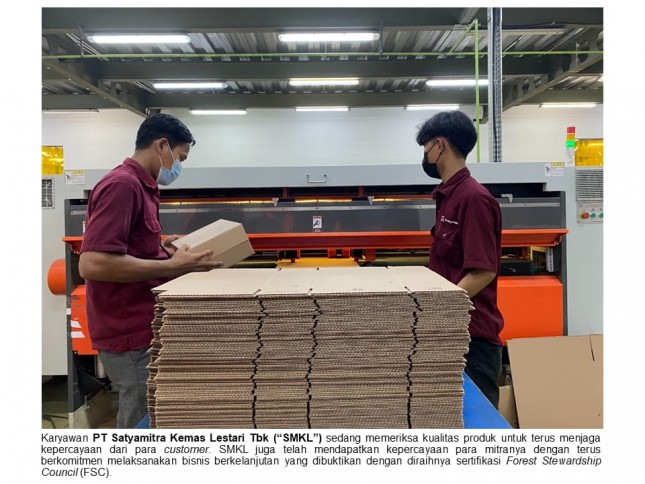 PT Satyamitra Kemas Lestari Tbk ("SMKL")
INDUSTRY.co.id - Jakarta, PT Satyamitra Kemas Lestari Tbk ("SMKL"), a Company engaged in packaging made from cardboard or brown paper, is optimistic that it can achieve an increase in sales by the end of 2021 by 26%. This is thanks to the customer trust SMKL has managed to win through the quality of the products produced. Looking at the Company's future business prospects, SMKL also targets sales growth of 15% in 2022.
Ang Kinardo as the President Director of SMKL, said, "SMKL continues to improve our performance as well as making quality products that fulfills the wishes and requirements of our partners. Therefore, we are optimistic that we can achieve an increase in sales for future performance. SMKL has also won the trust of our partners by continuing commitment to carrying out a sustainable business as evidenced by our Forest Stewardship Council (FSC) certification. FSC certification is SMKL's attempt to focus on a sustainability system which is expected to have a positive impact on the performance of the SMKL."
FSC certification is a certification that states that the products used are from forests with good management and provide environmental, social, and economic benefits. To fulfill this certification, SMKL conducts an annual audit to ensure the system is running in accordance with the provisions of existing certification standards. This FSC certification is also one of SMKL's efforts to care about environmental sustainability.
On the other hand, in preparation for the carbon tax era in April 2022, SMKL also plans to install solar panels to reduce carbon use in factories. "SMKL is very focused on the sustainability business, which is also a condition of several of our partnerships. If everything goes well, next year we plan to install solar panels, we are currently in the process of contracting with the supplier. To anticipate carbon tax era, we also have machines to collect waste paper to be sent back to paper factories for recycling," explained Ang Kinardo.
For information, in the Third Quarter of 2021, SMKL managed to grow sales by 22% YoY. Net profit after tax also recorded a significant increase of 268.3% YoY, which was IDR72.1 billion from IDR19.6 billion in the previous year.
The sales contribution of SMKL in the Third Quarter of 2021 came from the Carton Box segment of IDR872.6 billion, Offset Printing of IDR355 billion, Pre-printing of IDR232.8 billion, and Rigid Box of IDR73.9 billion.
The largest sales contribution for SMKL came from the Carton Box segment which increased 23.1% YoY and Offset Printing which grew 22.3% YoY.
"Therefore, SMKL is optimistic that it can achieve increased sales by the end of 2021 and targets sales growth in 2022, through continuous efforts to build strong trust with each of our business partners for long term cooperation. This can be realized by fulfilling the various provisions of our business partners through the sustainability business implemented by SMKL and the certifications eaned, one of which is the FSC certification," concluded Ang Kinardo.