Environmental Awareness Trend Enlarges ALDO's Paper Sales Prospects
By : Nata Kesuma | Friday, August 26 2022 - 15:40 IWST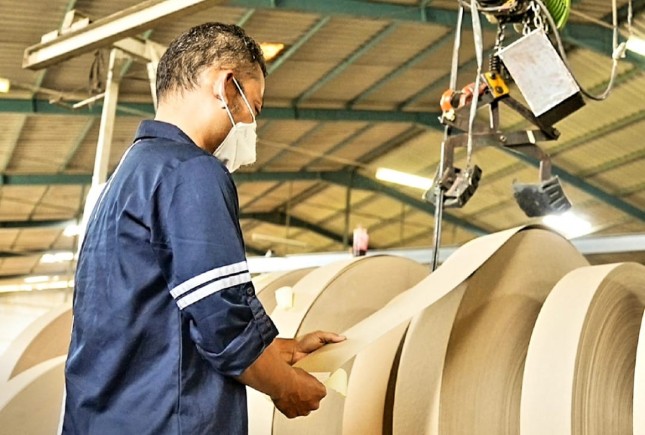 PT Alkindo Naratama Tbk ("ALDO")
INDUSTRY.co.id - Jakarta, August 23rd 2022 – PT Alkindo Naratama Tbk ("ALDO"), a listed company engaged in the integrated paper and chemical business sees that the prospects for the Company's paper sales will continue to expand in line with the increasing trend of awareness of the importance of a sustainable environment.
The Company has this optimism, considering the increasing trend of awareness of the importance of a sustainable environment is in line with the Company's policy to use recycled paper to produce various kinds of convertible paper products with environmentally friendly concepts.
According to Nielsen's report, Sustainable Shoppers: Buy the Change They Wish to See in the World, 81% of consumers require the company's contribution to improve environmental conditions. Consumer awareness about environmental responsibility is growing especially among young people, millennials (85%) and Gen Z (80%).
In fact, more than 73% of consumers say they are ready to switch to products that are more environmentally friendly and 41% say they prefer products made from natural and organic ingredients.
More specifically in Indonesia, a survey from KedaiKOPI shows that 77.4% of young people in Indonesia are interested in environmental issues. Furthermore, 81.1% of respondents view climate change as an emergency that requires immediate action.
In 1st Semester 2022, ALDO booked net sales of IDR767.22 billion, which rose by 14% from IDR669.85 in the same period of 2021. In the January-June period, ALDO managed to book a net profit of IDR39.31 billion in the first half of this year, up 31% from IDR30.05 billion in the same period the previous year.
"We see that awareness of the importance of the sustainable environment and business will continue to grow to all levels of society. And that, of course, will be a benefit for the sale of our paper products that carry an environmentally friendly concept," said ALDO's President Director, H. Sutanto.
Thanks to its commitment to developing green products and green processes in its business, the Company through its subsidiary PT Eco Paper Indonesia ("ECO") received green financing of around IDR472 billion from PT Bank Central Asia Tbk ("BCA") last June.
The green financing is a form of BCA's support for businesses and investments in the circular economy segment, which is the core business of the ALDO subsidiary, namely the production of recycled paper. By using recycled paper, the Company produces various kinds of environmentally friendly paper products, namely brown paper such as kraft liner, eco board, and core board.