HOKI Targets to Open 80 WarungKoki Outlets by the End of this Year
By : Nata Kesuma | Thursday, October 06 2022 - 20:00 IWST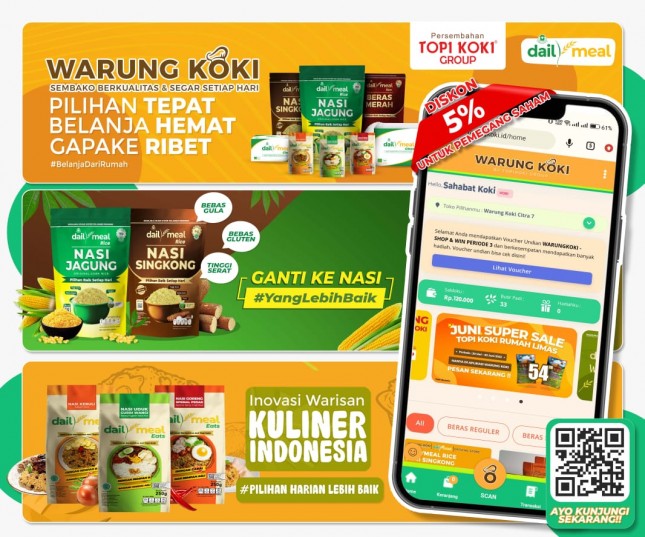 PT Buyung Poetra Sembada Tbk ("HOKI")
INDUSTRY.co.id - Jakarta, October 6th 2022 – PT Buyung Poetra Sembada Tbk ("HOKI"), an issuer of quality rice producers under the "Topi Koki" and "HOKI" brands, targets the growth of WarungKoki outlets by 80 outlets by the end of this year. Currently, HOKI has 60 WarungKoki outlets spread across Greater Jakarta, Banten, West Java, East Java, and Lampung.
This business expansion is part of the Company's efforts to transform into the fast-moving consumer goods (FMCG) sector, which is expected to continue to grow. The Indonesian Food and Beverage Entrepreneurs Association (GAPPMI) estimates that the food and beverage industry will grow by 5-7% in 2022.
"The addition of the WarungKoki outlets shows our seriousness in entering consumer goods business. The growth of the FMCG industry has good prospects in the future, so we are confident that we can make a positive contribution to the Company's performance," Director of HOKI, Budiman Susilo said.
WarungKoki is a product of a subsidiary of PT Hoki Distribusi Niaga (HDN), in the retail store line. This is a distribution innovation through the development of online transaction-based retail outlet. Purchase of HOKI products at the WarungKoki outlet is done through the warungkoki.id application. After placing an order, the buyer can choose to pick up the order directly at the nearest
WarungKoki outlet or be delivered by an online motorcycle taxi. In addition to the regular promo, specifically for HOKI shareholders, they will get an additional 5% discount when buying HOKI products through the application.
In addition to the retail line, HOKI also continues to develop the FMCG product line. HOKI already has a rice creation product, DailyMeal Eats with a taste of Indonesian culinary heritage that is practical to serve. The Company also has a healthy rice product, DailyMeal Rice, which supports a healthy lifestyle.
Currently HOKI is developing variants of healthy rice products, brown rice and porang rice. This will complement the existing products, cassava rice and corn rice. This product can be used for dieting because it has low carbohydrates and a low glycemic index. It is also safe for diabetics because it contains low sugar.
"We always prioritize research to deliver products that are healthy but still provide a good dining experience. In the future, we will continue to innovate to develop new products, without leaving regular rice as our core business," Budiman Susilo concluded.